Electric Faresin's make their world premiere
By Leila Steed25 October 2022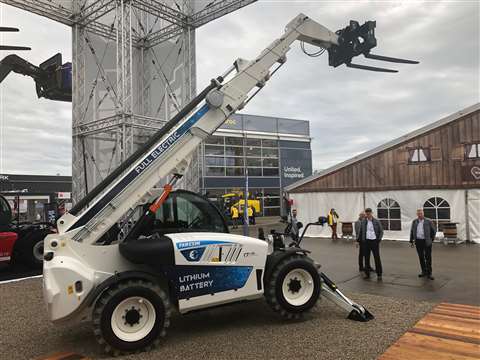 The world premiere for a new series of fully electric telehandlers made by Italian equipment manufacturer Faresin, has taken place at the Bauma 2022 construction equipment event in Munich, Germany.
The 'Big Range Full Electric" machine series comprises the 14.42, 17.40 and 17.45 models, which offer maximum lifting capacities of 4.2, 4.0 and 4.5 tonnes respectively.
The design of the machines is based on that of Faresin's existing diesel-powered models and, while the smaller 14.42 electric telehandler offers a top lifting height of 14m, the two larger models provide a lifting height of 17m.
Faresin, which launched its first electric telehandler - the 6.26 model - at Bauma in 2019, said, "We had a huge response from the 6.26 and decided to develop a larger electric machine for construction."
According to the manufacturer, the power system incorporated in the new Big Range Full Electric series "is absolutely comparable to that achieved with diesel engines".
Faresin's electric 17.45 model for example is able to offer a peak pulling force of 44.3kN and top speed 25km/h.
Described as "a machine with construction in its DNA", the 17.45 Full Electric is fitted with a 45.36kWh high-voltage lithium-ion battery pack at 435V.
The battery pack powers two electric motors, a 51kW motor for the transmission and a 23kW motor that is dedicated to the machine's services, said Faresin.
All three of the telehandlers are equipped with a single plug interface for 220V single-phase and 400V three-phase power supplies, and front outriggers to ensure stability "on any type of terrain when lifting and handling at high altitudes".
Other machines on display at the company's Bauma stand include its new Next Generation compact telehandlers.
The diesel-powered FS 9.32 Compact and the FS 7.32 Compact offer maximum lifting capacities of 3.2 tonnes, and lifting heights of 7 and 9m respectively.
Also on show is the 6.26 Classic 52 telehandler from the company's Small Range equipment series, and its updated 6.26 Full Electric telescopic handler.