Electric focus for JCB
By Andy Brown19 November 2020
At an online media event JCB unveiled a series of electric-powered products and the latest technological developments in clean electric charging.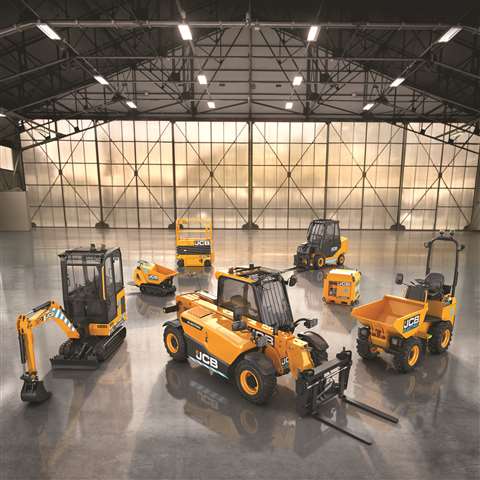 Tim Burnhope, JCB's chief innovation and growth officer said, "In a matter of just a few years, JCB have gone from having no electric machines to now having a wide range of electric products." He added that the company was, "fixated on the road to zero [emissions]."
At the digital launch JCB unveiled its first all-electric telehandler, the 505-20E as well as the new all-electric one tonne high-tip IT-E site dumper. 
JCB's electric mini excavator, the 19C-1E, entered into production in 2019 – the company says that it is the first electric excavator to be put into mass production by an original equipment manufacturer. A new cab was announced for the excavator, with JCB saying it would increase its appeal in countries with a colder, wetter climate.
It was also revealed at the event that the electric mini excavator is currently being distributed to 23 countries around the world, highlighting the potential for electric compact equipment.
With the charging of electric machines sometimes an issue, with infrastructure not always available on sites, the company also announced a range of power packs to support it electric machinery. The JCB power pack range will be available with a choice of four or eight automotive quality, maintenance-free lithium-ion batteries.
JCB has also developed a new rapid Universal Charger, compatible with current and future E-TECH electric models. Working with machine electrical systems from 48V to 96V and above, the JCB Universal Charger offers off-board rapid-charging solution, to allow extended working capability with battery electric construction and industrial machinery.
There is also the possibility of combining the Universal Charger with a JCB genset to create a hybrid power source.
Burnhope suggested that for larger construction equipment the company would continue to invest in 'clean' diesel but that regarding electric equipment there was, "More to come, especially on the smaller end of our equipment range."
Towards the end of the event Graeme MacDonald, CEO, offered a summary of what he said, due to Covid-19, had been an "extraordinary" year.
He said that JCB expect growth in 2021 of between 5-8% which would take the company close to the levels seen in 2018-2019. He added that governments investing in infrastructure projects to boost their economies would greatly help the construction industry.