Elliott unveils 215-foot AWP at ICUEE
By Lindsey Anderson02 October 2013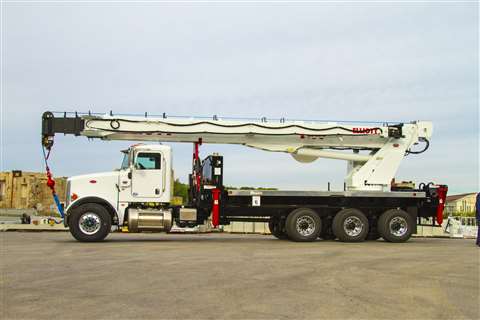 Elliott Equipment Company unveiled its tallest aerial work platform at ICUEE, Oct. 1-3 in Louisville, KY. The 215-foot working height E160/215 is ANSI A92.2 compliant and features 80 feet of side reach and up to 1,200 pounds of platform capacity. The E160/215 features 30,000 pounds of material handling capacity and is mounted on a federal bridge legal 5-axle chassis. Elliott's previous tallest model featured 140 feet of working height.
According to Jim Glazer, president of Elliott Equipment Company, the unit is designed for on- and off-road applications "thanks to Elliott's two stage 'EZ-Crib' outriggers. It also features Elliott's new gravity-leveled work platform that measures 36 inches by 72 inches and also has a hydraulic lifting system that makes it possible for one person to easily connect the platform yoke to the jib or boom tip.
The AWP's basket features an OSHA-compliant double handrail with grounding lugs and a hydraulic tool circuit for hand tools in the basket. The lower control console features Elliott's Ride-Around control console with an adjustable premium seat and full-pressure hydraulic controls mounted on a 360-degree continuous rotation turret for straight ahead visibility at all boom positions.
"This is a good machine for rental companies," Glazer said. "We have several models out in the field now."
Elliott Equipment Company worked in partnership with Custom Truck Equipment to develop the new AWP. "The E160/215 E-Line model demonstrates the focus of both companies on providing the best solutions on the market," Glazer said. "Custom Truck's many years of experience working with the largest utility and electrical contractors helped us put substantial amounts of end-user feedback into the design of this machine. We feel confident that this new model will be an industry leader for many years to come."
For more information on this unit and an entire report on ICUEE, see the November/December issue of ALH.