Emerson joins the Spierings fold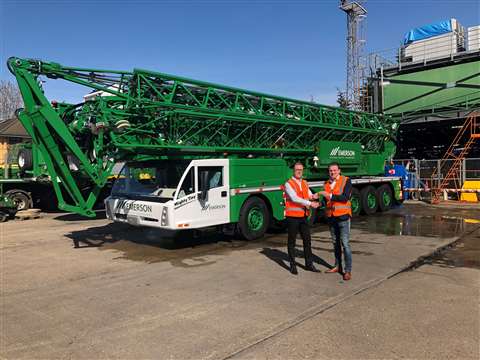 In the UK Emerson Crane Hire has taken delivery of its first Spierings wheeled mobile folding crane. It is a model SK1265-AT6 Mighty Tiny with 60 metre jib and a mast height of 37 m.
Commenting on his purchase Liam Clancy, Emerson managing director, said, "We are delighted to add the Spierings product to our fleet. We see more and more applications for the mobile tower crane concept in our area.
"The easy setup, hydraulic motions and steel mats that are delivered as standard with the crane are great. The simplicity for the operator swayed our decision to invest in this crane. I must admit that it is nice to have a crane in our fleet where we do not need to consider separate ballast or an extra truck for the outrigger mats and with just two lifting charts, it makes planning for lifts a lot easier."