Emissions-free machines and growth plan from Wacker Neuson
By Helen Wright12 April 2016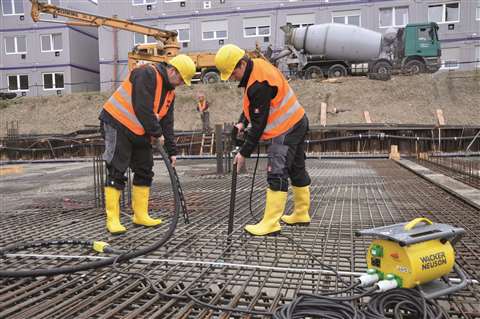 Munich, Germany-based international light and compact construction equipment manufacturer Wacker Neuson has presented a wide range of new equipment at Bauma and outlined its long-term internationalisation plan.
Cem Peksaglam, CEO of the Wacker Neuson Group, said that the company currently generated 71% of its revenues in Europe, while the Americas accounted for 25% and Asia Pacific 4%.
"We are working hard to expand our presence in the Asia Pacific, and have a long-term target that 10% of our revenues will be generated in this region," he said.
"We have established a new assembly plant in Brazil, where production of generators is set to start at the end of April. We want to be ready in South America for when the market picks up again."
Wacker Neuson reported 2015 revenues of €1.38 billion, up 7% year-on-year. The company is forecasting 2016 revenues of between €1.4 billion and €1.45 billion, a 2.5% increase.
Wacker Neuson showcased a cross-section of its products and services range at Bauma, with a focus on emission-free machines, such as battery-powered rammers (the AS30e and AS50e), an electric tracked dumper (the DT10e) and electric wheeled loaders (the WL20e) and the Kramer 5055e (which won the Bauma innovation prize).
In addition, the 803 mini-excavator with dual power (optionally diesel or electric drive) was also on show, together with a broad range of other new mini excavators.
New compaction launches were also presented, including five new models in the upper performance segment of the company's reversible vibratory plate series.
The models DPU80 and DPU110, which are offered with either a centre pole or remote control, as well as the new centre pole-controlled vibratory plate DPU90, are part of the portfolio with extremely low values in the area of hand-arm vibrations, which now consists of a total of ten models.
For concrete compaction, Wacker Neuson had its entire product range of internal and external vibrators for concrete compaction on show. Based on the application, the customer can thus choose from a modular HMS system, the basic line IEC and IE or the premium lines IRFU or IREN.
The modular premium system IRFUflex was be presented at Bauma for the first time. It consists of a converter, which can be combined with various vibrator heads and a protection hose length of 0.3m to 10m.
Mr Peksaglam said the new modular internal vibrator was particularly well-suited to rental customers.
"The modular system with just one converter unit and several vibrator heads saves costs for acquisition, maintenance and storage.
"The appropriate unit can be individually assembled for every rental customer or any application, offering flexibility and maximising utilisation," he said.
Meanwhile, to make its brand even more visible on construction sites in the future, Wacker Neuson also introduced new product branding at the trade fair. It said the eye-catching 'W' Wacker Neuson symbol would be the dominant trademark on its products in future.
Taking place in Munich, Germany, from 11 to 17 April, Bauma is the largest construction equipment exhibition in the world.