End of the line for Mansfield Brewery
By Lindsay Gale20 June 2008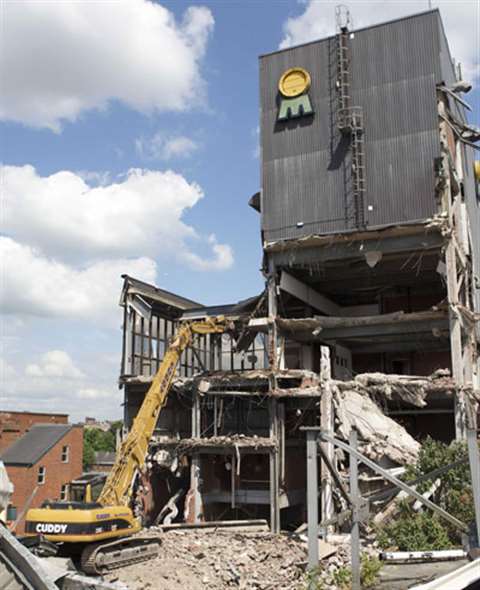 The eight storey main brewery building at the defunct Mansfield Brewery, UK, which was closed in 2001, is now being demolished by workers from Cuddy Group. Mansfield District Council is redeveloping the site to create a new six acre office, leisure and residential development.
Cuddy's 12 man team is using high reach excavators and 30 and 50 tonne machines carrying demolition shears to demolish the steel and brick structure, after which they will then move on to demolish the brewery's 42 m (138 ft) chimney.
The full demolition contract, expected to last for 16 weeks, is worth £200,000 (US$390,000). Cuddy first carried out asbestos removal before commencing the demolition phase of the contract.
The whole project is expected to result in 20,000 tonnes of demolition debris. Cuddy will recycle all steel and wood, and crush brick and concrete using its own mobile crushing equipment for use as backfill on the site, with any surplus being transported for use on other sites. Cuddy has a stated policy of recycling 95% of all demolition debris on its projects.