Energy sector: Winds of change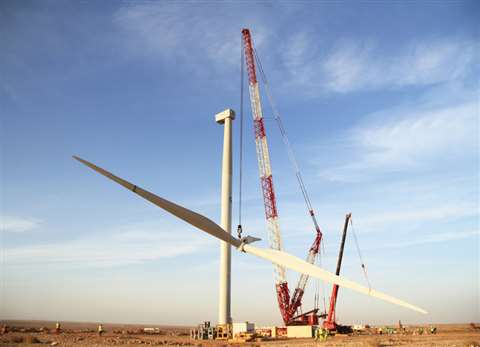 Reading back through the last few issues of IC&ST and our online news it quickly becomes apparent that the global energy sector as a whole remains busy. This is particularly true for wind power where contract wins and job site reports abound. In this feature we will look at some recent key projects that have caught our attention.
Starting with the UK offshore wind farm sector, German heavy load specialist, the Schmidbauer Group, has been awarded a contract for handling the heavy load logistics for the Walney Extension offshore wind farm in the UK. The contract was awarded by Dutch company Van Oord Offshore Wind Projects b.v. – an international contractor specializing in dredging, marine engineering and offshore projects (oil, gas and wind). Schmidbauer says it will unload, store and transport transition pieces weighing up to 600 tonnes and monopiles up to 1,030 tonnes at a harbour in Belfast, where parts for up to 87 wind turbines are kept. The company is primarily using Liebherr LR 11350 (1,350 tonnes capacity) and LR 1350 (350 tonne capacity) crawler cranes, as well as 56 lines of self propelled modular transporter (SPMT) to move the 8.40 metre diameter, 80 m long monopiles around the port.
The company says that although the majority of its customers are small to medium-sized German clients, its percentage of international clients is continually rising. It claims that the Walney Extension wind farm will have an operational capacity of approx. 650 megawatts produced from within 145 km². This means that once operating as planned in 2018, the wind farm could produce enough energy for approximately 460,000 households.
Heavy lift and transport specialist ALE has also been busy in the UK offshore wind farm sector. The company says that over the last nine months it has performed almost 400 transport operations and executed more than 300 lifts for multiple offshore wind contracts in the UK alone. The projects ALE is working on include: the Dudgeon offshore wind farm; the Race Bank wind farm; and the Galloper wind farm. According to ALE these three projects will power more than 1.2 million UK homes.
ALE's involvement includes the handling and pre-assembly of imported towers, nacelles and blades. With some rotor blades as long as 75 m and nacelles as heavy as 360 tonnes, ALE says it is adopting a Ro-Ro process, (where possible) instead of lifting, to provide a safer and more cost-effective method. Dave Smith, ALE projects operational manager, says, "ALE has invested heavily in state-of-the-art equipment, training and personnel specifically for these projects. We achieved several key milestones throughout all three projects so far and will continue to progress in our operations. Securing these contracts is a real indicator of ALE's increasing presence in the developing renewable offshore industry and ALE's commitment to servicing this market."