Enerpac moves beachfront building
By Niamh Marriott21 September 2022
Florida, USA-based Structural Builders and Restorations (S-BR) contracted Engineered Rigging to identify the best process to lift an 27.4 metres x 9.1 metres apartment building off its foundation, move it 30 metres south and 3 metres east to a staging area, and then return it north to its final position.
The Seaway Villas, constructed in 1936 in Surfside, Florida, USA, was the city's first apartment building and in 2014, the building was deemed historically significant. The two-story historic structure that once hosted 28 apartments will be transformed into two exclusive luxury beachfront residences with ocean views.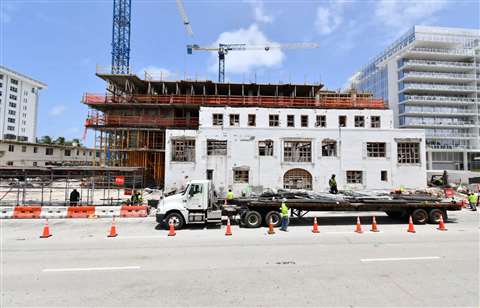 Prior to the renovation, the roof and interior walls had to be removed, preserving the façade and exterior walls. This phase of the project began in the spring of 2022.
The structure had to be moved to the east to enable the construction of a parking garage and new foundation. Once completed, the building will be carefully moved to its final position.
Lifting system
Engineered Rigging used Enerpac's Synchronous Lifting System (SLS) for this project. Featuring a computer control system and split flow pumps, the SLS's uses sensors to control the balancing and lifting of a heavy load to an accuracy of one millimeter.
Ten lifting points, each powered by a 97 tonne Enerpac HCL-lock nut hydraulic cylinder, were implemented to carefully lift the structure.
Once the building was lifted 1.8 metres, Engineered Rigging's team Inserted a LH400 low-height skidding systems under the building.
Ten skid shoe beams and 98 pieces of skid track were arranged to form a 150-foot runway on the east and west sides of the structure. The extended length of the runways saved a significant amount of time and labor costs by reducing the need to leapfrog the track to reach the destination. Using four push-pull units, the Seaway Villas was moved 100 feet over the course of three days in July 2022.
In addition to contributing technical support on the lift plan, Engineered Rigging provided equipment rentals for the project including three LH400 low-height skidding systems consisting of three split-flow pumps, 11 97 tonne lock nut hydraulic cylinders, six skid shoe beams, 98 pieces of skid track, six push pull units, and one on-site equipment technician.
The quantities were a bit higher than needed to ensure spares were on hand.