Engcon updates DC2 control system
By Thomas Allen20 April 2020
Sweden-based tiltrotator manufacturer Engcon has upgraded its DC2 proportional digging control system with improved compatibility and new functions.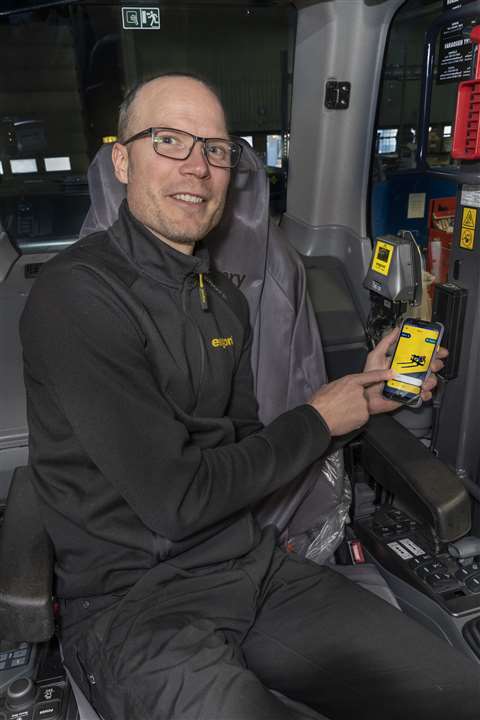 Originally launched in 2012, along with an associated mobile App that gives remote access to an excavator's control system, the DC2 system works with all excavator brands and in addition to controlling Engcon's tiltrotators it can also control an excavator's wheels and boom functions.
The App has been updated to be more intuitive to use, and can now be accessed on the latest versions of Android and other smartphones.
On installation of DC2 on an excavator, all control systems need to be calibrated. Previously, this was handled by an on-site service technician, but now it can be done remotely by connecting the driver's smartphone directly to support staff.
Troubleshooting is also made easier; Engcon's support team can identify a machine fault remotely and sent out a technician with the appropriate parts, if necessary. In many cases, though, the problem can be solved remotely without sending a technician.
Tomas Wall, Product Manager at Engcon Control Systems, said, "Remote support with remote control is a smart and time-saving feature that allows a service technician to troubleshoot via the mobile network and the driver's smartphone. This provides great benefits and time savings in calibration, troubleshooting and service."
He added, "In addition to saving the contractor a lot of time and money by having the support done without anyone going out to the machine, there is also a big environmental benefit by reducing the amount of trips taken."
A smartphone can be connected to the DC2 via Bluetooth, and it is possible to switch between different operator profiles and tools.
The new DC2 has initially been released for Swedish users to ensure that the new App works as expected before being released more widely.