Engines: Diesel's not done
By Jenny Lescohier23 October 2020
Talk of electrification has frequently taken center stage in recent years when it comes to equipment power options, but it would be remiss to ignore the many positive attributes of the diesel engine. The diesel engine has evolved rapidly and significantly from its earliest iterations and today stands as a paragon of engineering ingenuity.
Engine makers have been working to reduce diesel emissions for decades, and that trend continues, thanks to Europe's Stage V regulations. These were scheduled to go into effect in June of this year but have been postponed for 12 months due to challenges related to the worldwide pandemic.
"We're in an exciting time for diesel engine development," says Michael Lefebvre, manager, global marketing support, John Deere Power Systems. "After years refining our technologies to meet subsequent levels of emissions regulations, we can now leverage those technologies in new ways to achieve impressive results.
"Areas of focus include improving overall package size, reducing overall engine weight and integrating new generations of electronic control systems. We've always focused on uptime and reliability for our products, and that will continue to be an area of emphasis as we develop upcoming engine offerings."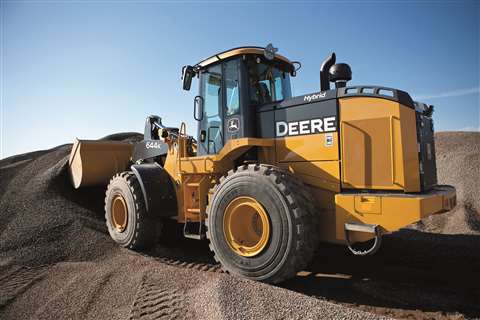 In this era of heavy-duty engine design, there are a few main areas of opportunity, Lefebvre says, including leveraging virtual analysis and telematics data, using digital tools and advanced simulation, and streamlining overarching power systems in the vehicle.
"One trend that will continue to evolve in the next few years is less reliance on physical sensors," he notes. "This is
because engine control units continue to become more advanced and enable greater engine control and diagnostics performance."
He adds, "Furthermore, engines will become smarter and more capable – not only in terms of lower emissions or higher power, but by being more reliable to run in the way applications demand."
How low can diesel emissions go?
Regarding lower emissions, much of the focus to date has been on reducing nitrogen oxide (NOx) and particulate matter (PM), but the reduction of CO2 will be of greater focus in the coming years, notes Christer Hedström, director, product planning industrial at Volvo Penta.
"At Volvo Penta, engine performance and reduced environmental impact go hand in hand," he says. "When developing our products, reducing engine emissions and fuel consumption is a top priority, along with further increasing combustion efficiency, reducing internal engine friction, optimising the engine subsystems, improving the efficiency of fuel injection equipment and turbocharger systems, and improving engine software."
Steve Nendick, marketing communications director, off-highway, Cummins, points out that diesel engines have never been cleaner.
"Cummins Stage V Performance Series engines deliver a particulate matter (PM) reduction of near-99%, alongside 96% reduction in NOx, compared to engines at EU Stage 1," he says. "These engines, ranging from 100 to 675 hp (75-503 kW), meet both EPA Tier 4 Final and EU Stage V emissions regulations, the toughest emissions legislation globally."
Cummins Performance Series delivers on average 10% more power and 20% more torque across the 100-430 hp (75–321 kW) range when compared to its predecessors, Nendick says, pointing to their increased power density that encourages the installation of smaller and lighter engines, with no loss in performance.
Ultra-low NOx and PM emissions are attributed to Cummins Single Module aftertreatment system which integrates DPF and SCR technologies into one easier-to-install package.
"The result is a win-win for OEMs and end-users," Nendick states. "As well as meeting the power requirements of the sector and the need to reduce emissions, these smaller, lighter, cleaner diesel technologies lower installation costs for OEMs, giving them the opportunity to improve machine capability. Operators can also reduce emissions at the point of use without impacting productivity."
Several years ago, there were a number of methods competing for acceptance as the best choice for reducing diesel exhaust emissions. Today there are still choices, however there are greater subtleties. "For Tier IV/EU Stage IV developments, the industry started with a combination of cooled external EGR [Exhaust Gas Recirculation] and SCR [Selective Catalytic Reduction]," recalls Juergen Haberland, director of sales, engines, at MAN Engines and Components.
"Now with advancements in the catalytic conversion technology we see more and more solutions with SCR only or reduced EGR rates. The effect is probably higher DEF consumption but lower fuel consumption. For EU Stage V, a DPF filter in addition to SCR technology is necessary to reduce the particle limits."
A source of speculation in this market is whether North America will introduce new emissions regulations: since US Tier IV Final regulations were met in 2014, there have been no new regulations in North America, but the European Union has continued to move forward with Stage V.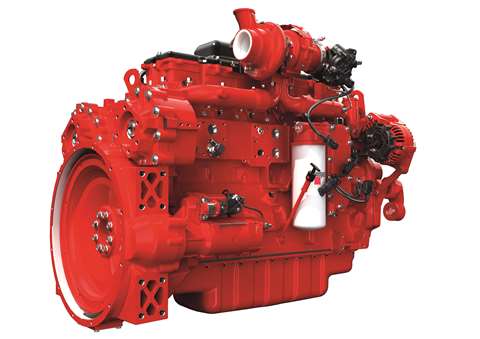 EU Stage V not only limits PM mass (0.015 grams per Kilowatt-hour, as does Tier IV Final) but it also introduces a PM number count for engines between 19 and 560 kW.
Many in North America speculate whether the US will adopt the same or similar legislation as the EU.
"I think most global OEMs see the EU particle number (PN)standard as inevitable for the US. I would not be surprised to see the PN standard be incorporated into the US rules at some point in the future," Allen Schaeffer, executive director, Diesel Technology Forum, has been quoted as saying.
Advanced aftertreatment for off-highway diesel engines
At Volvo Penta, Stage V engines feature an advanced exhaust aftertreatment system (EATS) which consists of a Diesel Oxidation Catalyst (DOC), Diesel Particulate Filter (DPF), AdBlue dosing system, Selective Catalytic Reduction (SCR) and Ammonia Slip Catalyst (ASC), Hedström explains.
"This system is very efficient at reducing emissions and has good reliability across a variety of applications," he says. "Stage V emission legislation requires off-road engines up to 560 kW to have a DPF which captures and stores soot. The soot needs to be burned off to regenerate the DPF and this is normally done while the machine is at a standstill, known as active regeneration.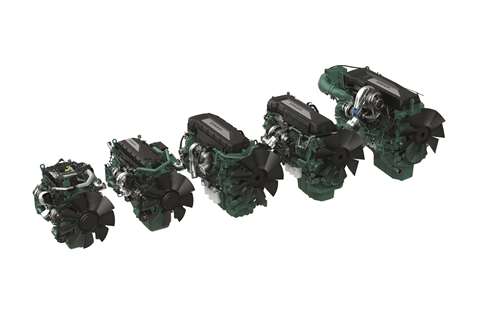 "However, at Volvo Penta we have a 'Regeneration Zero' vision which means we've minimised the need for active regeneration as much as possible, reducing downtime and keeping customers' machines operational and profitable. Through an optimised engine and EATS that work seamlessly together, the Volvo Penta solution increases uptime by maximising the use of passive regeneration. Here, the soot accumulated in the DPF is burned off during normal machine operation, without the need for frequent active standstill regeneration."
One way to reduce emissions is by reducing overall fuel consumption. This can be segmented into three main categories: combustion efficiency, air handling efficiency, and managing friction losses.
"We've been addressing these areas by leveraging advanced modeling techniques as part of the engine development," Deere's Lefebvre says. "We're continuing to develop our capabilities – and advance those capabilities – using virtual analysis before we start creating hardware and building the combustion system. Advanced modeling allows us to define and optimise the engine subsystems to achieve our performance requirements.
"Our most recent advancements regarding fuel consumption can be seen in our 13.6L engine," Lefebvre continues. "We designed that engine from the ground up. One of the objectives of that project was to manage in-cylinder efficiencies. We designed this engine for increased firing pressures to accommodate fast fuel burn while minimising heat losses, leading to increased performance."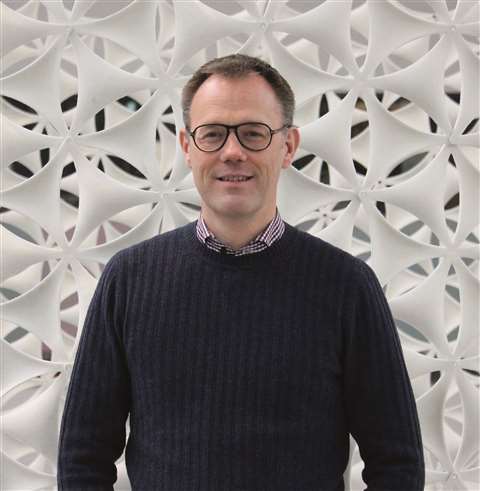 Another way to further reduce engine emissions is to manage air flow through the engine and provide warmer exhaust gas to the aftertreatment systems, making them more efficient.
Diesel engines are here to stay
While the diesel engine is undoubtably cleaner and more powerful than ever before, there's no denying the off-road industry is interested in electrification and OEMs and their customers can certainly see the benefits.
"We have already started to see electrification where the energy demand is relatively small and where there are good charging possibilities during a standard working day," Hedström says. "I think we'll see electrification move into applications where there is an increased energy demand, but it will take some time before we'll see it in the high-power, high-energy demanding applications.
"It's hard to picture a world without diesel any time soon, in both conventional and hybrid applications. But I think the diesel engine's use will become application-based, and that will continue for a considerable time in certain applications, such as energy-demanding off-road construction applications. But even here there will probably be a blend of technologies."
Lefebvre says diesel power has a long life ahead, even with the growing electrification market.
"The demands of the off-highway market will continue to remain the same – which requires the energy density that comes from diesel and is not currently available from fully electric solutions. The role of diesel use will likely evolve when smaller applications can meet the same off-highway performance requirements with alternative systems. However, diesel will likely continue to be the main energy source in heavy-duty applications."
The feasibility of implementing alternative power systems in off-highway equipment will depend on being able to optimise an overall power solution – balancing mechanical, hydraulic and electric power systems and cost.
The cost of construction equipment electrification
As the trend for electrification continues to drive evolution in passenger transport, there is an opportunity for manufacturers to consider alternative power solutions for off-highway vehicles, says Nendick. Key to this will be ensuring any new power is efficient, reliable and can meet the duty cycles required of construction equipment.
"To this end, manufacturers such as Cummins are committed to developing solutions that meet the market expectations of performance, uptime and running costs, while also meeting the need to reduce emissions," he says. "We're doing this with a variety of fuel sources including advanced diesel, hybridisation, full electric and hydrogen fuel cell technology.
"Due to the economic challenges of alternative solutions, construction equipment will continue to rely on diesel for some time yet, particularly for machines with heavy-duty cycles, such as bulldozers and large excavators. While great advances have been made, no viable alternative has yet emerged that can match the workhorse credentials, energy efficiency, flexibility, reliability and durability of diesel power for heavier-duty construction equipment."
JCB's chief innovation and growth officer, Tim Burnhope explains that for large-scale excavators, for example, electric power is quite simply too costly both financially and environmentally. It would cost £160,000 (US$208,000) for a lithium-ion battery large enough to power a 20-tonne excavator for an eight-hour shift – not to mention the vast amount of carbon-dioxide produced in the battery's manufacturing process.
"Diesel, on the other hand, contains more energy than petrol, natural gas, a variety of battery types and many other fuels or power sources," he states. "In fact, by mass, diesel contains around 54 times more energy than current lithium-ion batteries.
"Diesel is safe to be delivered to the site easily – even in remote locations," he says. "Finally, with their high torque nature and robustness, diesel engines are perfectly suited to heavy-duty applications, including use in construction equipment."
Haberland concludes, "There are applications that have traditionally been powered by electricity and there are applications that never will be. Machinery that is working very remotely, where the energy supply – or the grid – is not readily available,
that's where the traditional internal combustion engine will remain irreplaceable for the foreseeable future."
Perkins names new sales pros
Global engine manufacturer appoints regional directors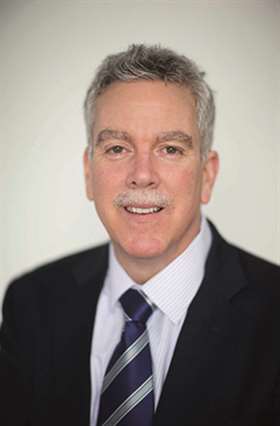 Engine manufacturer Perkins has appointed new regional sales directors for the Americas and the EAME (Europe, Africa and Middle East) region.
Following the retirement of Trevor Toulson, Richard Hemmings has been promoted to the position of EAME sales director. He is responsible for sales to direct Electric Power (EP) OEMs and Perkins distributors in the EAME region.
Most recently, Hemmings was EP sales manager for the EAME region, where his achievements included a strengthening of relationships with Perkins' large EP OEMs.
Meanwhile, Bill Giunta has been appointed sales director for the Americas, leading industrial
engine sales execution for Perkins products within the Americas region.
Giunta, who recently served as the company's product and technical support manager, will also work closely with Perkins distributors across the region to further the delivery of distribution excellence to all Perkins-powered customers, the company said.
Alternative fuels available
Choices abound, but are they really better than diesel?
There has been an undeniable global shift towards electrically powered machinery in recent years, with demand being mainly driven by increased emissions regulations, with noise level regulations also a factor. Electric machinery can enable work to be carried out in confined spaces or underground without producing harmful emissions and its reduced noise output also makes it suited for construction work in urban or heavily populated environments.
Another alternative is GAS (LPG). Liquefied petroleum gas (LPG or LP gas), is a flammable mixture of hydrocarbon gases used as fuel in heating appliances, cooking equipment, and vehicles.
"At Kubota, we see this as the middle ground between traditional diesel and electric," says Glen Hampson, business development manager, construction, Kubota UK.
"The benefits of GAS are the initial purchase price – which is significantly lower than electric – and the ability to perform a full day's work without specialist infrastructure for charging. Operators can change the gas cylinder of the unit in less than three minutes. GAS machinery also emits both low noise and low vibration compared to diesel, while retaining engine durability due to having the same core design."
Other alternative fuel choices include Hydrotreated Vegetable Oil (HVO), the biofuel Fatty Acid Methyl Ester (FAME) and hydrogen.
"HVO is a renewable, paraffinic fuel that is also referred to as 'synthetic diesel' and can be produced from a variety of vegetable and animal sources," explains Christer Hedström, director, product planning industrial at Volvo Penta. "You can use neat or blended HVO in all Volvo Penta diesel engines. A reduction of fossil fuel CO2 emissions by up to 90% is possible, depending on the material used in the HVO production."
Despite the alternatives on offer, Hampson says there is no clear need to move away from diesel. "All things considered, diesel machines still perform better and for longer with a lower initial purchase price for our customers," he says. "Trying to make alternative fuels match these standards is the big challenge for all manufacturers going forward."