Equippo launches carbon monitoring tool
By Lewis Tyler16 May 2023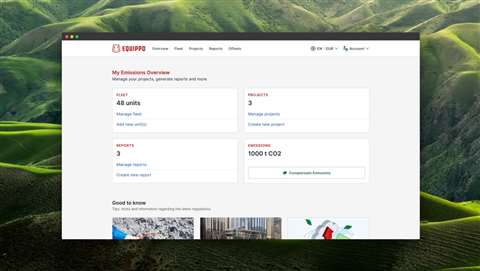 Swiss used equipment sales company Equippo has launched a tool for small contractors to make tracking carbon emissions of machines easy and accessible.
The Fleet Emissions Cockpit tool, which is available for free, is a cloud-based solution that allows contractors to manage an entire fleet's environmental impact and offset their emissions. This, says Equippo, gives customers the choice to go green. 
According to the company, the tool doesn't require set up fees or connection to telematics and can calculate, manage and arrange compensation for a fleet's CO2 footprint.
It can also help to establish sustainability goals and prepare the user for new EU wide regulations. After project completion, certificates with project tracking codes are available for contractors and their jobsite customers.
Michael Rohmeder, CEO of Equippo, said, "The used equipment industry likes to say that there is diesel in our blood. Not everybody loves the idea of going green.
"Most of our contractor customers are afraid of the new regulations and how they will be implemented. Equipment prices have gone through the roof with expensive exhaust aftertreatment systems and there are so many new rules, the pain is real. We are trying to make it very simple and accessible to track CO2 emissions. This is just the beginning of our journey to help change the mindset and make sustainability solutions around equipment easily accessible."