Equity for Quick Reach
By Euan Youdale08 March 2019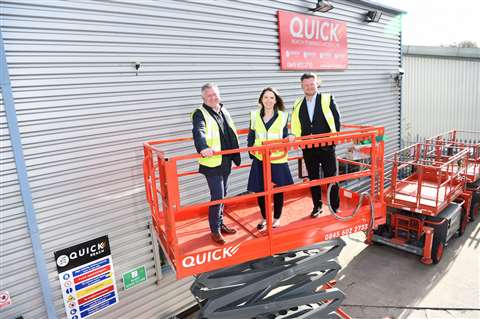 Quick Reach Powered Access has secured a £4.5million ($5.9 million) equity investment from Mercia Fund Managers.
The investment, which is the second from Mercia's £45.1million ($58.8 million) EV Growth II fund, will allow the Manchester, UK-based company to double its fleet of access equipment and continue its nationwide growth.
Founded in 2014 by brothers John and David Barton, Quick Reach now has depots in six locations around the UK, and a fleet of more than 1,000 units ranging from large telehandlers to smaller scissor lifts. The company which now employs 36 staff, has grown rapidly, achieving average annual sales growth of 77% over the past three years. The deal will give Mercia a minority stake in the business and provide investment for growth.
The EV Growth II fund makes investments of up to £5million in established and ambitious SMEs (small or medium-sized enterpise), looking to grow, with a focus on management buy-outs and development capital. The fund completed its first deal in July 2018 with a £4 million investment in the parking aggregator site ParkCloud.
Jill Williams, investment director for Mercia's EV Growth II, said, "Quick Reach has become a well-established provider of powered access equipment in a very short period of time. Its success has been underpinned by solid relationships with customers and suppliers and the industry experience of John and David. This funding will allow them to pursue their ambitious growth plans."
David Barton of Quick Reach added, "At Quick Reach we are committed to delivering the very best service and customer experience in our industry sector. With further investment in new equipment, and a more extensive distribution infrastructure, we are well positioned for further growth."