ERA to update CO2 Calculator
By Belinda Smart05 January 2022
The ERA has unveiled plans to update its Equipment CO2 Calculator as part of a range of planned initiatives for 2022. 
Version 2.0 of the Calculator will include group jobsite or fleet calculations, as well as calculations for handheld tools, modular accommodation units and hybrid machines.
The Calculator was first released in January 2021, followed by an upgrade in March.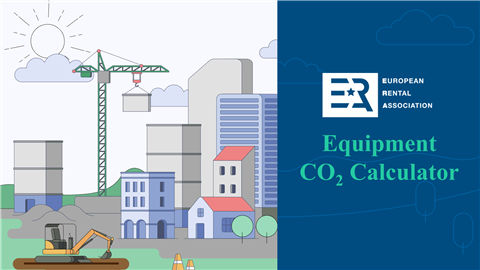 Digitalisation
Other ERA initiatives planned for 2022 include its 'Impact of Digitalisation on Rental' project to raise awareness among rental companies in Europe, including SMEs and national associations, about the challenges of digitalisation, and will provide examples of best practice in digital transformation.
A preliminary report will be presented at the ERA Convention in June 2022 and the final report will be published in the autumn.
The ERA will also publish a 'Beginner's guide to Building Information Modelling (BIM)' in the near future, along with an updated 'ERA Casebook – examples of best practice for digitisation and IT in the rental industry.' 
Educational videos
ERA said it will also publish a series of promotional and educational videos covering jobs in the rental industry, the financial, operational and sustainable benefits of rental, and the range of equipment that can be rented and digitalisation.
It confirmed the first two – on the ERA Market Report and an ERA presentation video – will be released soon.
Global Rental Alliance
The ERA confirmed the Global Rental Alliance (GRA), which it has managed since 2021, will focus on three key areas this year; people, promotion of rental and sustainability. The GRA includes associations from Australia, Brazil, Canada, India, Japan, New Zealand and the UK.
ERA Convention 2022 and European Rental Awards
The 16th annual ERA Convention and 15th European Rental Awards will take place on 15 and 16 June in Riga, Latvia. More information about the Convention and Awards will be available soon on the ERA website: https://erarental.org/event/era-convention-2022/.
Other activities
The year 2022 will also see ERA's Technical Committee continue to focus on telematics, training and safety.
The Cybersecurity Working Group will also reconvene after the publication of the 'Guide to cybersecurity leading practice in the equipment rental industry' last year.
The Sustainability Committee will work on updates to the 'ERA Sustainable Supplier Framework' and 'ERA CSR KPI Guidance Framework'.