ESTA Awards deadline extended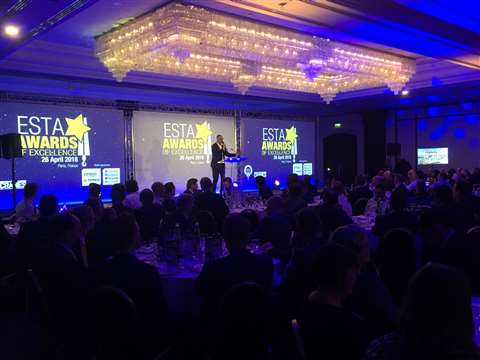 The European Association of Abnormal Road Transport and Mobile Cranes has issued a deadline extension for entries to the 2109 ESTA Awards. The new deadline is Friday 25 January.
These awards are held in the first quarter every year and have become hugely popular, regularly attracting more than 500 guests. ESTA said it expects the 2019 event to be among the biggest yet. It will take place on the evening of 11 April in Munich, Germany, during the Bauma exhibition.
The awards are run jointly by ESTA and International Cranes and Specialized Transport magazine.
Entries are welcome from companies that are members of ESTA's national associations in Europe, ESTA special members and ESTA affiliates.
Find the entry form on ESTA's website at www.estaeurope.eu. There are ten categories and smaller crane rental and heavy transport companies are especially encouraged to enter. ESTA said it is trying to expand the awards' influence and showcase the industry's successes and professionalism.
The 2019 awards categories are:
* Cranes, telescopic, lifting capacity less than 120 tonnes, and articulating boom cranes of any type and lifting capacity
* Cranes, telescopic, lifting capacity more than 120 tonnes

* Cranes, lattice boom
* Transport, trailer and load under 120 tonnes GCW (gross combination weight)
* Transport, trailer and load more than 120 tonnes GCW
* Combined techniques

* Safety

* Innovation, end user
* Innovation, manufacturer
* SPMT job of the year.
The crane and transport jobs of the year are awarded to an individual company for an innovative, complicated or otherwise unusual job, completed safely, professionally and to the client's satisfaction.
Judging is carried out by an independent jury of experienced professionals, according to a strict points system drawn up by ESTA. The finalists are published in advance of the awards evening, with the winners being announced on the night.
Ton Klijn, ESTA director, said, "The event is going from strength to strength. It is an excellent opportunity to network with senior people from right across the industry and the awards showcase some of the truly excellent European projects.
If you have not attended before, I strongly recommend you do so. It will be another sell-out evening and well worth it."