European debut of Toro's eDingo at IRE
By Thomas Allen25 February 2020
US-based manufacturer Toro will be using the International Rental Exhibition (IRE) to launch its new electric Dingo compact utility loader into the European market.
IRE 2020 will be taking place in Maastricht, the Netherlands, between 9 and 11 June, 2020.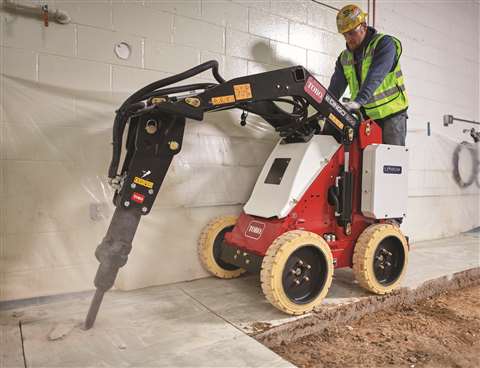 Toro, which is already well established in the US rental market, is looking to tap into the European market; "For this, the e-Dingo is a flagship model," according to Anthony Nadalin, Senior Marketing Manager at Toro.
The eDingo 500 is the company's first electric Dingo compact utility loader.
Nadalin added, "Listening to end users and channel partners, there is demand for electric. In part, it is also a response to public pressure to have environmental products. This is a trend across Toro's range."
Based on the company's 323 Dingo, the eDingo 500 has an operating capacity of 233kg and is powered by lithium-ion batteries. It was said to be designed specifically with rental in mind.
The batteries, which can be recharged in eight hours, give the machine a travel speed of 2.75mph (4.43km/h) and deliver comparable power to combustion engines with a 5-7.5kW power rating, said Toro. Depending on how the machine is used, the batteries can last for a full 8-hour shift.
The e-Dingo is said to be good for indoor work, as well as outdoor jobs, and it has been highlighted that the machine enhances health and safety because it eliminates the need for manual labour in tight indoor spaces.
Although there is a premium to be paid for the electric technology, Toro suggested that rental companies can charge higher rates for the unit. There is also the benefit of lower maintenance costs due to fewer engine components.
The e-Dingo 500 is due to become commercially available in the Spring.