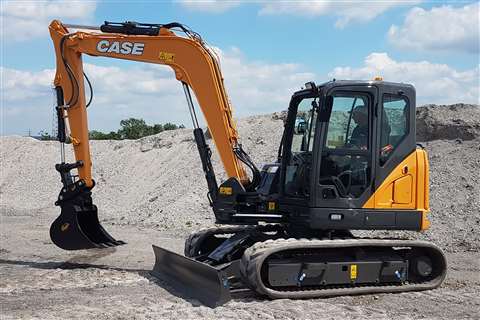 Case Construction Equipment has announced the first European sale of its new Stage V excavator range.
The CX90D has a Yanmar Stage V engine which, says Case, is the most powerful in the segment – promising, in fact, 20% more power with a 4.5% decrease in fuel usage.
Sandro Vitale, product director, general construction at Case CE Europe, said, "We always put our operators first when making machines modifications and this was no different. The new engine continues to provide best-in-class cabin noise levels, measuring just 69dB while the engine is running.
"Alongside this, the diesel particulate filter that is required to meet the new EU emissions standards is self-cleaning, meaning its maintenance has zero impact on an operator's daily working time."
The CX90D has a maximum reach of 7,560mm and a maximum digging depth of 4,670mm. The machine also has a maximum travel speed of 5.1km/h and an operating mass of 8,630kg.
UK-based dealer Dennis Barnfield sold the CX90D to engineering and administration service providers Civil & Construction Solutions, to be used in the road and sewer side of the company's offering.
Anthony Holmlund Bouvie, business director Northern Europe, at Case, said, "This machine is just the first of our roll out of Stage V excavators across Europe. It is always heartening to hear of such a timely and important sale from a valued dealer and customer."