European launch for Volvo's first mid-sized electric excavator
By Mike Hayes01 June 2023
Volvo Construction Equipment (Volvo CE) has launched its first mid-size electric excavator, the EC230 Electric, into the European market.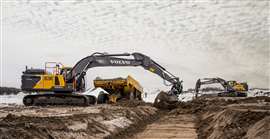 The company says the excavator, which offers low noise and zero emissions, is available to select customers in the region.
The 23-ton EC230 Electric, introduced in China in 2021 and Norway in 2022, promises the same performance as its diesel counterpart, the EC200E, but Volvo says the new machine delivers zero emissions, low noise, low vibrations, better controllability, and a lower total cost of ownership.
According to Volvo, operators have reported that the excavator achieves similar digging force to its diesel equivalent, but with a faster cycle time.
On site in Europe
Up to now, the excavator has only been deployed on customer sites in Europe, such as the Slakthusområdet urban development project in Sweden, the largest fossil-free worksite in the country, and the Green Construction Site of the Future project in Denmark, where it assisted in the construction of an office building and urban public spaces.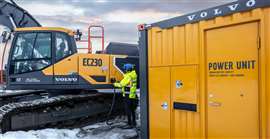 Powered by lithium-ion batteries, the EC230 Electric is designed to work a full eight-hour shift, assuming a high-power lunch-hour charge.
The excavator is equipped with a CCS2 connector, a standard connector in most European countries, allowing for charging at various charging stations, and comes with a charging cable providing a power level of 22 kW, enabling battery charging via a CEE socket.
Customers will also have the option of using a mobile power bank specifically designed for the machine.
Thomas Bitter, head of technology at Volvo CE, said, "Partnering with our customers is a vital part of our innovation journey and a close cooperation with them is how we can gain valuable feedback to continually improve our offering and build sustainable solutions. The EC230 Electric has proven its sustainable power and is the perfect fit for modern construction sites – fulfilling demanding tasks while being considerate of its surrounding environment."