Events rental confidence at Showman's Show
By Helen Wright22 October 2015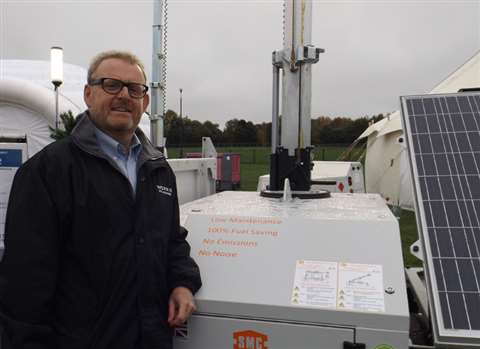 Exhibitors at this year's annual UK-based events company exhibition The Showman's Show displayed a wide range of innovative products, and were confident on prospects for the event rental market in 2016.
The Showman's Show took place in Newbury, Berkshire, from 21 to 22 October, attracting over 350 exhibitors from festival organisers to sporting events organisers, party organisers, country fete companies, wedding organisers and rental software companies.
Here is just a snapshot of some of the news and views from the event. Click on the image in this article to view the gallery.
Morris Site Machinery, for instance, used the event to showcase its new solar lighting tower – the SMC Solar-2, which boasts zero emissions, zero fuel costs and zero noise. The towers generate power during the day using solar panels in order to light sites in the evening.
The company said it had also enjoyed continued growth within the UK TV/film and events sector, supplying temporary lighting and power equipment on location to major productions.
Morris managing director Phil Winnington told IRN, "We have seen demand for the SMC from around the world, really working with our end users and coming up with solutions. As well as benefitting the environment, the commercial benefits to this kind of sustainable technology are clear – users can substantially reduce fuel consumption and carbon emissions.
"We see a buoyant rental market in the UK, and are looking into adding new product ranges to our UK offering in the future."
Meanwhile, Tony Booth, UK director at temporary plastic flooring specialist Signature Systems Europe, told IRN, "We see a lot of demand from rental companies for construction and events, and have designed our latest product after listening carefully to what they said."
Signature Systems unveiled a new hybrid matt temporary flooring design at the show. "We are targeting the construction and events market with this new design. One side of the matt can be used for site build up, bearing machine weight, and then it can be reversed and the pedestrian side can be used during the event. There are plenty of construction matts in the market and plenty of pedestrian events matts, but no hybrids like this," Mr Booth explained.
"There has been a lot of interest in this new product, and we have many deals in the pipeline. I'd say the construction rental market is a bit quiet at the moment, but the events market in the UK is as good as it's ever been."


Optimistic

Lighting tower company Brightlights, a division of A-Plant, was also at the show, and sales manager Ian Madder-Smith told IRN, "We are optimistic for 2016 – the events rental market is picking up even more." The Brightlights stand included the BC1 400W metal halide lighting tower, and a 300W LED model.
Manufacturer Selwood's hire, sales, parts and services division was also at the show – its first time exhibiting at the event. Hire installation manager Bob Aitken said, "Our main market is utilities, but we are interested in the events segment, and have started to get business from the UK festivals industry. We are broadening our horizons."
Meanwhile, Simon Ferguson, sales director at Generator Power, said the company was seeing more demand from the utilities sector. "We are very positive on 2016, we think we'll see another growth year."
Generator Power rents Atlas Copco generators in the UK. "We now have a fleet of around 1400 units, predominantly Atlas Copco," Mr Ferguson said. "It will be interesting to see how the market reacts to the introduction of hybrid models; we are watching this closely."


Product showcase

Plenty of other new equipment was also on show. Generator manufacturer Firefly, for instance, used the Showman's Show to display its Cygnus hybrid power generators, Cygnus hybrid LED tower light and Arcturus integrated hybrid power generator.
And Western Global, which manufactures fuel containers, showcased its new Abbi Blu bowser at the Showman's Show. This is a dual bowser; able to handle both AdBlue and Diesel in separate compartments, and pumps to avoid cross contamination.
Manufacturer Barrus also extended its line-up of Loncin inverter generators with the introduction of the 2 kW rated output LC3500i, which it had on show at the exhibition.
BGG UK also launched its new LiON LED hybrid lighting tower at the show, which uses a Kohler diesel engine and a lithium ion battery pack to cut fuel consumption. The new model can run on battery power alone for up to 10 hours, reducing noise pollution to zero and making it well-suited to urban job sites.