Excavator growth in France
By Sandy Guthrie16 January 2018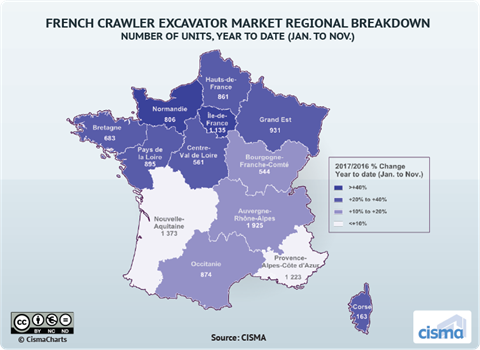 Increased investment in infrastructure, as well as urbanisation in France's most important metropolitan areas such as Lyon and Paris, mean that certain of the country's regions are witnessing strong growth in demand for hydraulic excavators.
CISMA (the French association of manufacturers of construction equipment and material handling technology) has found that in terms of units, the French hydraulic excavator market is dominated by the Auvergne-Rhône-Alpes region, followed by Nouvelle-Aquitaine, Provence-Alpes-Côtes d'Azur and Ile-de-France.
However, in terms of percentage growth, it found that France was cut in two.
It said the northern half appeared dynamic, whereas the growth of the excavator market in the southern half of the country was much slower.
The Ile-de-France region around Paris achieved the strongest growth – up 50% from January to November 2017 compared to 2016 – immediately followed by the north coast region of Normandy. Conversely, the region of Nouvelle-Aquitaine in the south west of France remained stable.
CISMA said one explanation of these figures was the Greater Paris Express, which it described as Europe's most ambitious urban project for the next 10 years. It added that work on the project had only just begun.
In Normandy, the construction of a new viaduct at Guerville on the Paris-Normandy Motorway is in progress. The six existing lanes will be also renovated. This project started last year and should be finished by 2022.
In addition, investments on the three ports of Le Havre, Rouen and Paris amount to €1.55 billion over the period 2016 to 2018.
In the south west – Nouvelle-Aquitaine – the stabilisation of the market can be explained in part by the completion of the TGV (high-speed rail) work towards Bordeaux, said CISMA.
At the end of November 2017, the total French market was up 20%, it said, adding that the booming construction market was expected to continue to drive the growth of the market.
France is expected to exhibit steady growth in the global hydraulic excavators market in 2018, said CISMA