Excavators: More than just a digger
By Thomas Allen02 August 2017
Excavators have continued to prove themselves to be highly adaptable machines that can be applied to unusual tasks and enhanced to perform heavy work in small spaces. They are even leading the way in electric power. And all this has been achieved while continuing to improve in terms of operator comfort.
The latest crawler excavator from UK-based construction equipment manufacturer JCB is the JZ141. It combines the performance of the outgoing JZ140, which it is replacing, with the 55 kW JCB EcoMAX engine solution from the JS131 excavator.
With a reduced tail swing that was said to be 29% shorter than a conventional machine of this weight, the JZ141 was specifically designed to operate in confined urban site conditions with a significantly reduced risk of damage to the rear of the machine. The shorter tail swing also makes the excavator suitable for working within single-traffic carriageways.
Despite the reduced dimensions, operator comfort has not been compromised. The KAB seating can be adjusted easily and has air suspension, heating and ventilation. Electric lumbar support is also available as an option on the higher specification seat.
In terms of safety, the full-size JS series cab structure incorporates a tip-over protection structure (TOPS) as standard, and an additional roll-over protection structure (ROPS) and falling object protection structure (FOPS) are also available as options.
Furthermore, due to the heavy counterweight and innovative positioning of the engine and hydraulic components, the centre of gravity has been optimised to provide stability on rough terrain.
Safety is also improved by the all-round visibility provided by the rear-view cameras. They are connected to the seven inch multi-colour display, which offers clear operational information and a home screen that can be customised to display the operator's preferred data.
This excavator has achieved a fuel saving of up to 20% compared to the JZ140, in part due to the use of larger 130 litre/min hydraulic pumps that maintain the overall maximum pump flow while allowing the engine speed to be reduced from 2,050 rpm to 1,800 rpm. This has the added benefit of reducing internal noise levels to 70 dB.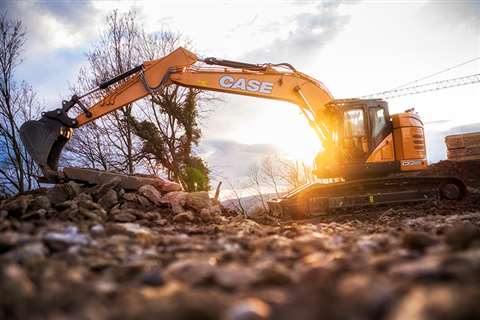 The JZ141 was said to be the only 15-tonne class crawler excavator to meet Tier 4 Final emissions standards without the need for a diesel particulate filter (DPF) or the exhaust fluid additive AdBlue.
Minimised footprint
US-based construction equipment manufacturer Case Equipment has also introduced a new crawler excavator with short tail swing.
The CX245D SR is the latest addition to the company's D series and has been designed to provide increased digging and lifting power in confined work areas, such as road and bridge work, residential projects and urban construction.
At an operating weight of 24 tonnes, the new excavator features a compact counterweight, along with modified boom placement to minimise the machine's footprint.
Along with other D series models, the CX245D SR has been designed to provide significant operational gains, such as the reduction of cycle times. Bucket digging forces and lift capacity have been increased due to the use of an electronically-controlled hydraulic pump, larger control and solenoid valves, and multiple sensors.
These features combine with the Case Intelligent Hydraulic System, as well as the advanced energy management with its five integrated control systems, to make the best use of the machine's hydraulic power and momentum. This has resulted in greater strength while simultaneously improving fuel efficiency.
The Case Intelligent Hydraulic System includes an automatic idle function that lowers engine rpm after five seconds of lever inactivity, while the idle shutdown function shuts the engine down after a pre-set time. Also, the Boom Economy Control reduces rpm by using gravity during boom lowering and swinging.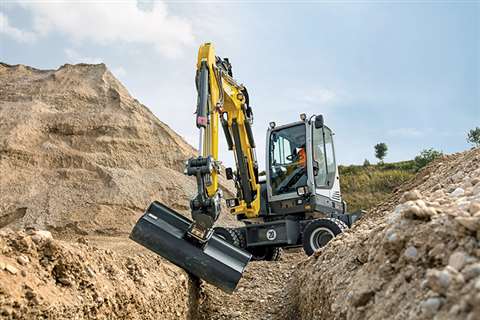 The excavator's 119 kW engine was said to provide a low-maintenance solution that meets US Tier 4 Final/EU Stage IV emissions standards through a combination of selective catalytic reduction (SCR) and diesel oxidation catalyst (DOC) technologies. These are intended to help maximise uptime and performance, while keeping maintenance requirements to a minimum.
The engine does not require a DPF and was said to be economical in its use of AdBlue, equating to between 2.5 and 3% of fuel consumption. With no DPF regeneration needed and an AdBlue tank that only has to be replenished every five fuel refills, downtime has been reduced and the associated lifetime service costs kept low.
Improved performance
The latest model in German light equipment manufacturer Wacker Neuson's 5 to 9 tonne excavator series has also been built to work in confined spaces.
The EZ80 has zero tail swing and was said to offer precision and efficiency.
The load-sensing hydraulic system ensures that the work speed of all movements remains constant and independent of load – due to the load-independent flow control – even if multiple movements are performed at the same time. This makes operating the excavator simple and precise.
Performance has been further improved by the increase in bucket torque and extension of the bucket's angle of rotation to 200˚.
An articulated boom is available as an option, for greater flexibility, extended reach, and increased digging depth and dumping height.
Up to five auxiliary control circuits are available with this new model – as with other models in the series. The fast and continuous setting of the individual circuits takes place via the jog dial, which is an operating concept that has been borrowed from the automotive industry. Individual storage of the attachments can therefore be performed without any problems, even during operation.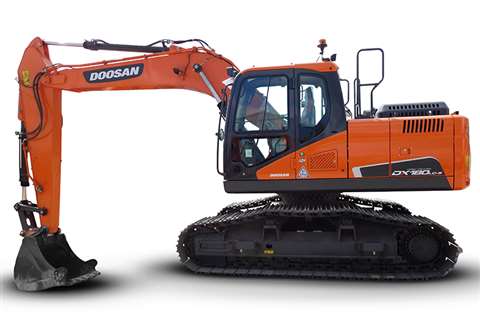 The revised machine and cabin design includes the offsetting of the boom and a strongly forward rounded hood, providing improved 360˚ visibility of the working area, as well as of the track and the attachment on both sides.
Built to last
Compact construction equipment manufacturer Doosan Bobcat EMEA (Europe, Middle East and Asia) has introduced two new high-track crawler excavators for jobs that require higher ground clearance, a reinforced track frame and a strong traction system with reinforced upper rollers for work in harsh environments and on projects where greater travelling distances are required.
This means they are able to move with ease over rough terrain, negotiate obstacles and pull trailers.
The 16-tonne DX160LC-5 HT and 18-tonne DX180LC-5 HT complement the company's standard configuration 14-tonne DX140LC-5 and 18-tonne DX180LC-5 mid-range excavators.
The DX160LC-5 HT combines the upper structure of the DX140LC-5 model with an 18-tonne class high track undercarriage system, thereby increasing the ground clearance from 410 mm to 615 mm.
The DX180LC-5 HT, on the other hand, is an enhanced version of the DX180LC-5 excavator. It incorporates a reinforced structure and a re-engineered, high-performance braking system, offering a ground clearance of 615 mm – compared to 460 mm on the DX180LC-5.
Both excavators are part of Doosan's new generation LC-5 range of machines that are EU Stage IV compliant.
The two excavators are powered by a Perkins 1204F engine, which provides an output of 81.6 kW in the DX160LC-5 HT and 94.9 kW in the DX180LC-5 HT at 2000 rpm. It uses an electronically controlled high-pressure common-rail fuel system that reduces particulate matter emissions from the cylinder, and a waste-gate turbocharger.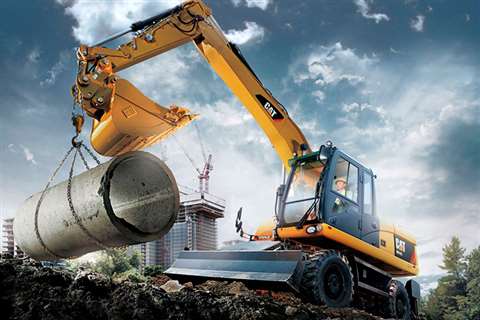 The engine also provides trouble-free operation by meeting EU Stage IV emissions standards without the need for a DPF. This is achieved by the use of cooled exhaust gas recirculation (EGR) and SCR aftertreatment technologies.
Doosan has further refined the operator's cab by introducing a system that enables attachments to be operated from either the joystick or a two-way pedal. This is intended to lessen any potential discomfort caused by the extended or repetitive use of the joystick alone for attachments such as a shear or a breaker. It is also helpful when precision is required, since the operator can keep full control of the excavator with the joystick while using the two-way pedal for attachments.
Operator benefits
Operator comfort was also a central concern in the development of US-based construction equipment manufacturer Cat's latest wheeled excavators.
On both the M315D2 and the M317D2, the operator station is spacious and has seat options that include heated cushions and automatic weight adjustment. Automatic air conditioning comes as standard, and the ergonomic control layout makes for easy operation.
In terms of safety, visibility is optimised by the use of large glass areas, and the handrails up to the cabin allow the operator to maintain three points of contact when climbing into and out of the machine. Also, anti-skid plates on all walking surfaces reduce slipping hazards.
The new D2 series versions build on the reputation of the M315 and M317 by offering a more robust fuel-injection system, versatile front-linkage configurations and an expanded work tool capability.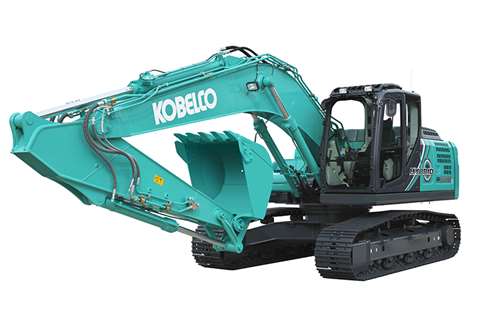 The new Cat C4.4 ACERT engine that powers these two excavators meets China Non-road Stage III emissions standards, which are equivalent to US EPA Tier 3/EU Stage IIIA standards. It delivers the same power and fuel economy as the predecessor engines in both working and travelling modes, while also managing worldwide fuel quality.
The primary fuel filter and water separator features a water-in-fuel switch that indicates when draining is required, reducing the risk of fuel-system contamination.
The two excavators have a variable adjustable boom that was designed to improve balance and right-side visibility, as well as to facilitate working in tight quarters and the lifting of heavy loads, since the new models can serve as utility machines for moving material on site.
They are also able to travel independently between job sites at a speed of up to 37 kph, thereby reducing transport costs.
Excavators have also been playing a pioneering role in the shift from petroleum to electric.
Hybrid advances
Japanese excavator manufacturer Kobelco recently launched what it said is the world's first lithium-ion battery powered hybrid excavator in the 20-tonne operating class with US Tier 4 compliance.
At the heart of the SK210HLC-10 are two major power-drive units. The large lithium-ion battery allows for greater retention of stored electricity and provides the necessary electrical output to the new Kobelco-developed 25 kW power-assist generator motor. This was said to be comparable to the engine output of a much larger 5-tonne excavator.
When the engine is in low-to-normal loading mode, the generator motor reverts to charging the new battery – the charging levels of which can be seen on the operator's in-cabin monitoring system.
The stored electricity content also powers the new all-electric swing motor and was said to give greater control functionality in terms of response and smooth operation. In addition, when the electric swing motor decelerates, it generates charge to the lithium-ion battery.
Digging the future
Likewise, Belgium-based manufacturer Volvo Construction Equipment (CE) recently unveiled its latest concept machine – an electric compact excavator prototype.
Boasting zero emissions, the EX2 was said to offer lower total ownership costs, ten times greater efficiency and ten times less noise, compared to its conventional counterparts.
This prototype stems from the company's earlier ELEXC research project, during which Volvo CE worked with a team of six partner companies who all contributed to the $7.9 million project.
Ahcène Nedjimi, electrics and electronics systems lead engineer and EX2 project leader, said, "The electrification of construction equipment will produce cleaner, quieter and more efficient machines – this represents the future of our industry."