Exclusive: BrandSafway's senior VP, Metro and Infrastructure
By Lindsey Anderson06 March 2023
With all indicators suggesting the scaffolding market will continue to show robust growth over the next five years, including annual growth rates ranging from five to over eight percent during this period, ALH sat down with one of the industry's largest providers in North America to discuss industry metrics, general market trends and company innovations. With over 360 locations in more than 30 countries, BrandSafway says it is well positioned to capitalize on growth in key areas such as the Middle East and Europe. Tom Topolski, senior vice president of Metro and Infrastructure at BrandSafway provides insight.
ALH: You've been with BrandSafway for just over a year. What led you to the company? How has your past experience helped you in your current position?
Topolski: I joined BrandSafway to lead the newly established Infrastructure Group, which combined our Infrastructure Services and Major Projects Groups under one full-service umbrella last year.
Prior to working at BrandSafway, my career had been spent in the heavy civil markets, including extensive planning, design and construction experience in highways, bridges, tunnels, rail and transit, aviation, ports and marine, water and wastewater and, more recently, smart mobility.
My understanding of the infrastructure market has helped me position and introduce BrandSafway to a wider array of opportunities that require the full range of our products and services. Our company is uniquely positioned to provide clients with best in class forming, shoring, scaffolding and access solutions. BrandSafway's industry-leading inventory, state-of-the-art modeling capabilities, advanced engineering and safety performance enables us to work side-by-side with our clients from the pre-bid stages to completion – and increasingly asset management or permanent maintenance as well.
ALH: What is your outlook for the North American market for the next year?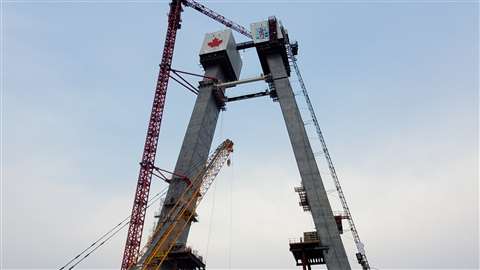 Topolski: Like any other segment of the economy, infrastructure has been affected by inflation, supply chain disruptions and keen competition for engineering and construction talent. Nevertheless, the infrastructure market has remained distinctively resilient in the face of these headwinds. Yes, projects have been delayed in some cases due to the factors I just noted; however, the projects are being repackaged and will proceed, so I am optimistic overall for the infrastructure segment in 2023 through at least the next five years. The infrastructure backlog is simply too large to ignore any longer!
ALH: Where are the hot spots in North America? What markets/sectors are the strongest? Will these change in 2023?
Topolski: Just over a year ago, Congress passed the Bipartisan Infrastructure Law (BIL)—providing historic investment in our nation's infrastructure. In light of this, I expect the infrastructure market to be strong in 2023, gaining pace as the BIL funds increasingly flow through state and local channels. Bridge rehabilitation, aviation as well as broadband and the EV network will also see significant opportunities and growth in 2023. There also appears to be consistent funding in new stadium and arena projects, which is a core strength of BrandSafway.
ALH: How will the Bipartisan Infrastructure Bill (BIL) have an impact on the market?
Topolski: The BIL will provide additional market stability for civil infrastructure projects as well as non-civil projects, allocating ~$1.2 trillion over 10 years, with $550 billion in spending over the next five years. For everyone involved in the market, including BrandSafway, the BIL provides the foundation for long-term growth through 2026, by enhancing and supporting transportation infrastructure, specifically bridges, aviation and rail projects, and strengthening our communities.
What big projects are currently being supplied by BrandSafway?
Topolski: We are pleased to be providing our clients with custom solutions on several signature projects. A few examples include the new Fountain Bridge (I-395) in Miami, FL, where we're providing inside arch access cantilever decks, scaffold, and engineering as well as an arch finishing platform.
We're also engaged in the iconic Harbor Bridge, which will be the tallest point in South Texas and the longest cable-stayed bridge in the United States, providing pylon temporary access stairs (upper and lower), stay stressing platforms supply and stay cable platforms supply and install.
In addition, as a company with a large presence in both the U.S. and Canada, we're delighted to be supporting the construction of the Gordie Howe Bridge providing access between Windsor, Ontario and Detroit, Michigan, by providing pylon temporary elevator supply and installation as well as under bridge maintenance gantry supply and installation.
Finally, we are also playing a critical role on the Los Angeles International Airport (LAX) Landside Access Modernization Program. Our access solutions, including our patented QuikDeck Suspended Access System, are providing unimpeded vehicular and pedestrian passenger traffic during construction. The general contractor LINXS Constructors selected BrandSafway to provide access to the underside of the Automated People Mover (APM), APM stations and walkways. We used our BIM capabilities to illustrate how QuikDeck and HAKI suspended work platforms would facilitate vehicular, pedestrian and construction equipment traffic to flow beneath them and minimize disruptions.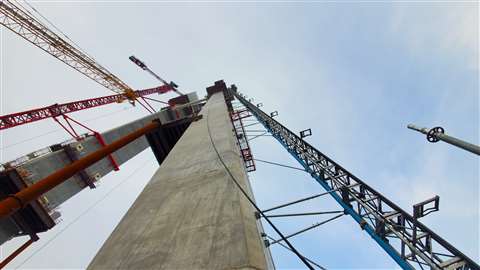 ALH: What challenges has BrandSafway faced with the supply chain?
Topolski: Like many other companies, we had to be extremely agile to respond to the shifts in the supply chain environment. Fortunately, BrandSafway was able to navigate through these issues successfully, largely due to the breadth and depth of our resources, our global reach and local presence, and deeply embedded relationships of trust, which were built over years of working together through a wide variety of global and local conditions. It may also be important to note that BrandSafway can do things at scale and with speed that many of our peers cannot, which was also helpful.
ALH: What's your outlook on the supply chain for the next 12 months?
Topolski: I'm cautiously optimistic that the supply chain will continue to improve, albeit at a modest pace. Moving forward, I think it's reasonable to expect companies to reevaluate their overall supply chain strategies and explore new business models. However, it's important to keep the long view in mind and not react too quickly, even to dramatic changes.
ALH: What innovations (technology, products, services, etc.) are you working on?
BrandSafway's digital transformation journey continues to gain momentum. Given the critically important nature of our work, we have always been driven to find ways to deliver greater value to our customers and support our employees in the field, the office or remotely. We use technology to align and communicate with all the different contractors, employees and stakeholders on a project within a strategically focused ecosystem, which enables us improve performance, safety and productivity. Some of the foundational resources and technologies that we're using – such as 3D mobility, augmented and virtual reality, and our BIM capabilities – are delivering significant value for our clients, from the pre-bid stage through job site execution and product tracking and measurement.
ALH: What additional industry trends are worth noting?
With changing weather patterns from increased incidence of major hurricanes, flooding, wildfires and intense heat, a focus on sustainability is top of mind. Major countries across the globe are increasingly focusing on green infrastructure development. This can also include the use of sustainable building materials, designing infrastructure that prioritize renewable energy as well as infrastructure that supports electric vehicles.
It's no secret that the infrastructure and construction sectors have lagged others in adopting emerging technologies; however, I am confident that this is changing. I am truly excited to be in our industry, currently, because I see innovation flourishing, producing new technologies that are changing the way we plan, design, build and operate infrastructure. Technology and digital tools, broadly embraced by BrandSafway, are revolutionizing infrastructure planning, design and asset management.