Exclusive: Chinese crane owner on the construction recovery
By Cathy Yao27 March 2020
China's construction industry is on its way back to normality after months of being shuttered by the effects of the Coronavirus pandemic.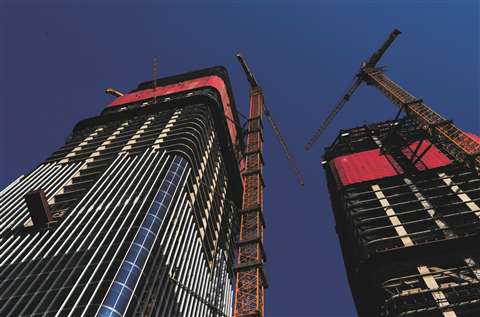 To get an insight into what is happening on construction sites, KHL spoke exclusively to Mr Chai Zhao Yi, managing director and chairman of Pangyuan Rental, the largest tower crane rental company in China.
Pangyuan, which is a division of state-owned Shanxi Construction Machinery Co., Ltd., has cranes on many hundreds of sites around the country.
KHL: How would you describe the current situation for the construction industry in China?
Chai: About 60% of workers have gone back to the construction sites, but that does not mean they're all working. Because of the logistical problems facing the industry, construction materials cannot be delivered to sites. Also, less than 63% of construction projects are currently operating.
Less than 50% of tower cranes are operating because not enough skilled workers have come back to work.
In Shanghai, for example, less than 80% of projects have started back up for local contractor Shanghai Construction Group. For other contractors, it's less than 50%.
What do expect for the near future?
We still need another month to recover bit by bit. Of course, I am not talking about the Hubei Province, where the virus originated. Generally, we need about 50 to 60 days to return to normal, hopefully.
For Hubei province, we're not quite sure. Hubei just lifted its lock-down, but for Wuhan, it will remain on lock-down until early April.
How will your company's financial performance be impacted by COVID-19?
In the first quarter, Pangyuan saw reduced turnover and profit, and we see that continuing to decrease in the second quarter.
In the third quarter, business will return to normal, and we are expecting explosive growth in the fourth quarter. This is because of a stimulus package from the government.
What are the details of the stimulus package?
Here's an example: for Pangyuan to open our service center, we need [to get a loan to buy] a piece of land. Normally, we would wait 60 days to get all the documents and certificates ready, 30 days for the application process, 30 days for documentation. But now, it is going to be 10 days to get it done; three days for application and one week for documentation. The government will shorten the period for land application and construction processing.
During the last economic crisis, the Chinese government launched a package for RMB4,000 billion to stimulate the economy. Do you think it will do it again?
It will be far more than RMB4,000 billion; it will be about RMB40,000 billion. Think about the GDP growth in China over the past ten years, it was tremendous.
But the difference will be, the previous package mostly focused on infrastructure and real estate. This time, it will be more for the future - 5G, new energy, railways, etc. – what we call "the great infrastructure". Of course, that is the long-term plan.
Finally, what was your forecast for 2020 before the virus struck and where does it stand now?
Our goal was a 35% increase over last year, but because of the virus, we will be around 10% behind our goal.