Excon to support India's growing infrastructure development
By Catrin Jones21 February 2022
The Confederation of Indian Industry (CII) has announced the 11th edition of Excon, South Asia's largest construction equipment and construction technology trade fair, will take place at the Bangalore International Exhibition Centre (BIEC), Bengaluru from 17-21 May, 2022.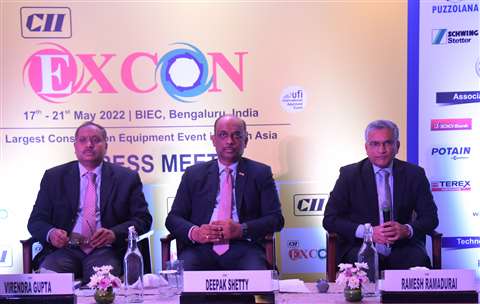 India is currently the world's third largest market for construction equipment sales. Mr Dimitrov Krishnan, Co-Chairman, Excon 2021 & President, ICEMA, commented that the country's National Infrastructure Pipeline could propel it to be the second largest construction market in the world, with a size of US$25 billion by 2030.
India's latest budget saw the government committing to spending 39.45 trillion rupees (US$529.7 billion) in the coming fiscal year to build public infrastructure and drive economic growth.
"Excon is happening at a time when our economy is on the path of transition towards a 'New India' and there is renewed confidence among industry players on the revival of economy against the backdrop of robust policy measures and major thrust on infrastructure development by the Government of India", said Deepak Shetty, chairman of Excon 2021 and managing director of JCB India Limited.
Shetty added that, with sustainability and environment being the major concerns, the Government and industry were working together to take measures and innovative steps to ensure a sustainable and eco-friendly development of the country's infrastructure.
The theme of five-day event is 'Building India for a New World – Competitiveness, Growth, Sustainability, Technology' and key topics of focus will include alternate fuels, women in infrastructure, and digital transformation.