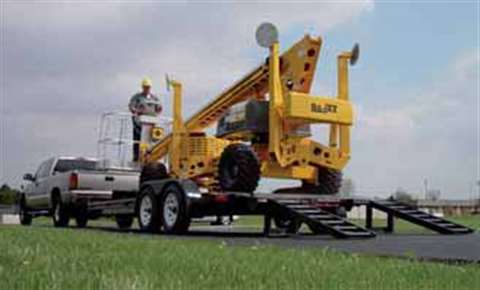 Access International will exhibit with its publisher, KHL Group
Alimark Hek G-336
The Swedish company is launching into the US its L-350 (light) and M-450 (medium) lines of modular mast climbing work platforms and hoists first seen at Bauma last year. The modules from these lines can be configured in combinations and mast orientations to provide up to 8,800 pounds of hoist capacity and 11,000 pounds of work platform capacity. See also the Scando 650 FC-S, which offer payloads up to 7,000 pounds and speeds up to 340 ft/min.
Ausa G-334
Spain&39;s Ausa launches its first ever telehandler, a 4,400 pound compact model. Definitely one of the must-see handler products at the show.
American Lift & Handlers (ALH) S-597
American Lift & Handlers will exhibit with sister publications International Rental News, Access International and more.
Avro Hoist Company B-905a
Canadian hoist company that has in the past imported GJJ hoists from China. Exhibiting with dealer Lewis Equipment Co.
AWPT SZ1000, Green lot
AWPT is the US subsidiary of the International AWPT is the US subsidiary of the International separate entry.
Bil-Jax S-8417
Bil-Jax will bring its new self-propelled X-Booms. The 43 feet working height, telescopic boomed 36XT offers 32 feet of maximum outreach, and the 45XA is an articulating boom with a 51 foot working height and 27 feet of outreach. Both have four-wheel drive capability and hydraulic outriggers for set-up in less than 30 seconds.
Baoda Hoists B-920
See entry for SBU Hoists.
Bocker USA, Inc B-974
US subsidiary of Germany&39;s Bocker Group, with products including trailer-mou8nted ladder lifts, the Steinweg-Bocker construction hoists and small personnel lifts.
Braviisol B-960
For the first time at Conexpo, this Italian company will show its 400 pound capacity, self-propelled, mini vertical mast platform, the Leonardo.
Camac G-192
Spanish company Camac is launching the 4400 lb payload ECP-1000 and the 13,200 pound payload ECP-3000 into North America.
Case N-1609
Case Construction will show its TX842 8,000 pound telehandler. The company, which just entered the handler market, says the new line complements its range of construction equipment and places them as a "one stop shop" for its 400 distributors.
Caterpillar G-140/N-2007
The company will have representation of its construction equipment line, and may include its new "super" compact telehandler unit TH255.
Custom Equipment B-955
Custom Equipment will show from its range of Hy-Brid scissor lifts.
Faresin Handlers RP-34005
Italy&39;s Faresin Handlers is showing the 9,900 pound lift capacity Storm 18.45 and 15.45 telehandlers, which have maximum lifting heights of 59 and 49 feet, respectively.
Genie Industries G200 in Gold area
Genie has been quiet about launches at Conexpo, but visitors can expect to see a re-engineered GTH-5519 telehandler. Elsewhere on the stand, they can look at new S-60 and S-65 Trax telescopic booms on sets of four rubber tracks.
Haulotte Group G-236
The new 86 foot working height, 75 feet outreach, self-propelled HB86 TJ will stand tall at this French company&39;s stand. As well as a telescoping boom, it features a 16 foot telescoping jib for additional access flexibility.
Hinowa S-16200
The Italian specialist in compact "Spider" platforms – and other compact equipment - will exhibit its track systems at Conexpo. ReachMaster, its US aerial lift dealer, is exhibiting aerials at stand B-962.
Hydra Platforms G-324
Hydra will exhibit from its range of truck and trailer mounted underbridge inspection platforms.
Hydro Mobile B-989
The mast climbing manufacturer will launch its E-Series Here visitors can see mast climbing Raxtar hoists, now being sold in North America by Hydro Mobile. The hoists have payloads up to 7,000pounds, speeds up to 300 ft/min, and lifting heights to 660 feet. They will be compatible with the masts used on Hydro-Mobile&39;s F-Series mast climbers.
International Powered SZ1000, Green Lot Access Federation (IPAF)
IPAF&39;s Safety Zone covers nearly 8000 square feet and will feature a dynamic 15-minute demonstration at 10 am, noon, and 2 and 4 pm of the dangers of not wearing a harness in boom type platforms. Visitors can receive practical advice on the correct way to use a harness and view a variety of aerial platforms supplied by member manufacturers.
International Rental News S-597
ALH&39;s sister magazine exhibits on the stand of publisher KHL Group.
Italmec (Heila) C-7107
Italian truck- and crawler-mounted aerial platform manufacturer, exhibiting with sister company Heila, which makes loader cranes.
JCB G-160
JCB has topped its Loadall line-up with the new 510-56 with a 10,000 pound lift capacity and a working height of 56 feet. Also new are the 535-125 and 535-140 HiViz Loadalls, which feature lower boom pin height, smaller boom sections, and new axles.
JLG Industries G-170/S-813
Surely prominent at JLG&39;s stand will be the 11,000 pound, 18 feet maximum lift height G5-18A super compact telehandler, which is 146 inches long by 71 inches wide by 77 inches high. Its 5,500 pound maximum lift and 1,850 pound lift performance at a fully extended reach of 11 feet give it the best capacity in the compact telehandler class, says the company. Elsewhere on the stand will be models from JLG&39;s 19 to 32 foot platform height ES scissors series, enhanced with on-board diagnostics, better and re-routed cabling, and a new brake housing, for greater reliability and easier maintenance.
The company&39;s Australian-development LiftPod vertical mast unit will also be on display.
KHL Group S-597
KHL Group is the publisher of American Lift & Handlers, Access International, International Rental News, and other magazines in the international construction industry.
Lewis Equipment Co B-905a
Hoist and crane dealer, exhibiting with Canadian hoist specialist Avro Hoists.
Loegering C-5796
This manufacturer of tracked undercarriage is showing its QTS set of four rubber-track undercarriages that bolt directly to hubs of most boom lifts. The company is supplying several Genie booms fitted with the tracks.
Manitou G-195
The French company is expanding its range of handlers in North America with the launch of its two MHT telehandlers, as well as display its truck mounted forklifts and updated MRT 2150 handler.
MEC Aerial Work Platforms B-959
On stand will be MEC&39;s first boom lift, the 40 foot working height M40T, as well as its first heavyduty scissor lift, the rough-terrain, 1,000 pound capacity 3773RT HD. Visitors can also see the 3072ES and 3772ES electric scissors, which have been in production since October following a design originally developed for the European market to meet "green" interests.
New Holland G-120
One of the latest to enter the telehandler market, look out for its mid-range sized machines.
Pettibone G-259
Pettibone will bring its Traverse series T10056 telehandlers, which it expects to have re-rated to 11,000 pounds capacity by the time of the show. Its maximum lift height of 56 feet remains certain, however, as well as its 70 inches of horizontal boom travel throughout the lift range.
Raxtar B-989
Hydro Mobile will be launching its new E-Series mast climber as well as showing manufacturer Raxtar&39;s hoists.
ReachMaster B-962
ReachMaster sells Worldlift Industries&39; products, which include the Falcon Spider machines and the Denka atrium lifts and trailer mounted platforms. It will also show Hinowa aerial platforms.
SBU Hoists B-920
As the distributor for Baoda Engineering Machinery in China, SBU is introducing two, Yaskawa inverter controlled, 300 ft/min hoists: the S6000-C/DC and S7000-C/DC, with 6,000 and 7,000 pound capacities.
Scanclimber/Scaninter B-977
Finnish mast climbing work platform and hoist manufacturer.
Sellick Equipment B-924
The company will bring its new truck mounted forklifts, the new S-160 and S-80 vertical mast machines, and its SLP-80 straight mast machine.
SIA L-3114
The Scaffold Industry Association will promote its safety training activities, training activities, through the 50-odd IPAF/AWPT-certified training centers across the US.
Skyjack B-958
Skyjack will showcase its new 66 foot platform height SJ 66T, with a telescopic boom and articulating jib. It features 4-wheel drive, direction sensing drive and steer controls. Without a jib, it is the 61 foot working height SJ 61T.
Snorkel International G-117
Snorkel will show the Upright models that it is now manufacturing in the US since the company&39;s acquisition by Tanfield Group in the UK. These include the 18 foot working height, batterypowered TM12 mast lift, the 32 foot working height S2633 scissor lift, the 32 foot working height and 36 foot working height SR3084SL, and the 44 foot working height AB38N and AB38W machines.
Terex Corp G-200
Terex access equipment and telehandlers: see entry for Genie Industries.
Time Manufacturing B-957
Standing tall at this stand will be the 56 foot working height VST 52SI, which offers an outreach of 31 1/2 feet and has a side-mounted, 100°- rotating platform.
UpRight Powered Access G-117
Reflecting the company&39;s decision to use the UpRight brand in North America for its trailer mounts and push-around lifts – its other products are being sold under the Snorkel name – visitors can see Upright's 43 feet working height TL37 and the 55 foot working height TL49K trailers.
Wuxi-Shenxi Construction Machinery C-7269
This Chinese manufacturer includes mast climbing products in its range, and may show some at Conexpo.
Xtreme Manufacturing G-147
The Las Vegas manufacturer will be on home turf displaying its high pivot boom telehandlers.