Explosive design underway at Ironbridge
New engineering investigations and calculations are underway at Ironbridge Power Station in Shropshire, United Kingdom as decommissioning consultancy RVA Group prepares for the next phase of demolition through the controlled use of explosives.
The site's four iconic hyperbolic cooling towers – built from 45,000 t of reinforced concrete – were brought to the ground in less than 10 seconds in early December 2019, following more than five months of preparatory works.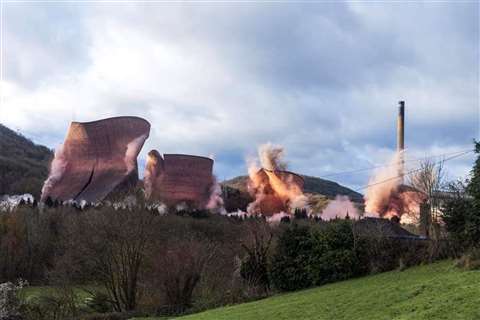 The same methodology will now be deployed in phases to clear the power station's bunker bay, turbine hall and de-aerator bay during the remainder of the project.
Elsewhere, decontamination continues to safely remove all hazardous materials within the 55 m (180 ft) boiler house and turbine hall, and minor structures are currently being demolished using mechanical techniques.
The programme – estimated to take 250,000 man hours by the time it is completed – moves the 141 ha (350 acre) closer to becoming a residential-led mixed use development. Once home to one of the largest power stations in Britain, the land was acquired by land and property regeneration specialist Harworth Group in June 2018, and RVA Group was appointed principal designer for the project in April last year.
"Harworth came to us because they were looking for a collaborative strategy involving the client, contractor and consultant, making the best use of all available technical skill-sets – crucial on a project of this scale," said RVA Group managing director Richard Vann.
"From the outset the project approach has been and will continue to be open dialogue with all stakeholders, enforcement agencies and interested parties."