Extendible flatbed trailer range
Wijchen, Netherlands-based trailer manufacturer Nooteboom has launched the Teletrailer Longrunner, which it describes as its latest generation of lightweight extendible flatbed trailers.
The Teletrailer Longrunner is available with a choice of two or three hydraulically steered axles and a single or double extendible load floor, which extends to a maximum length of 30 metres. Nooteboom said this makes it particularly suitable for the transport of long, self-supporting loads such as steel and concrete structures and for the transport of containers.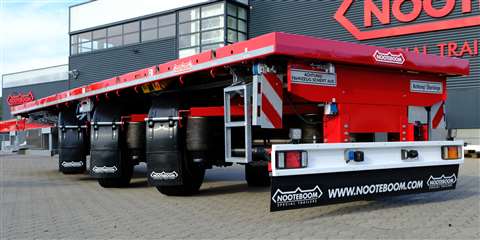 The trailer has a net maximum payload of 42.5 tonnes at 80 km/h. Its deadweight is from 7.3 tonnes. Nooteboom says the chassis is lightweight due to the use of high-grade steel. Hydraulically steered axles provide a steering angle that's greater than 50 degrees.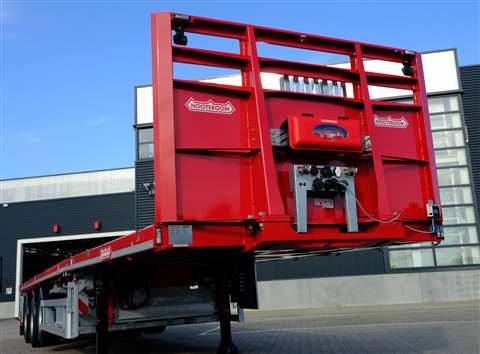 A new TUV-certified headboard has been designed for the Teletrailer Longrunner. Nine versions are available in different heights, either completely closed or with an open frame at the top. According to Nooteboom, the headboards comply with NEN-EN 12642 code XL standards and are strong enough to stop at least 50 percent of the load capacity, up to a maximum of 25 tonnes.
The Teletrailer Longrunner is available with a choice of tyre sizes, including 245/70R17.5, 435/50R19.5, 275/70R22.5 and 385/65R22.5. Trailers can be equipped with SAF or BPW axles and with drum brakes or disc brakes.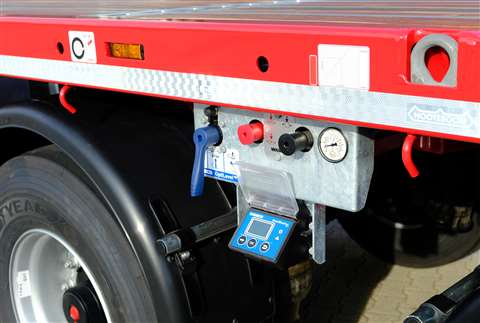 The Teletrailer Longrunner is equipped as standard with electronic air suspension and a manual control. A Wabco lift axle control or Wabco smartboard can be specified enabling control of functions including raising / lowering, axle load readings, setting a second ride height, checking the odometer, and operating a lift axle. The Teletrailer Longrunner has load floor height from 1.145 mm.
A range of storage options are for open or lockable boxes. Boxes are mounted underneath the load floor as a substructure, which varies in size depending on the trailer type and chosen load floor length.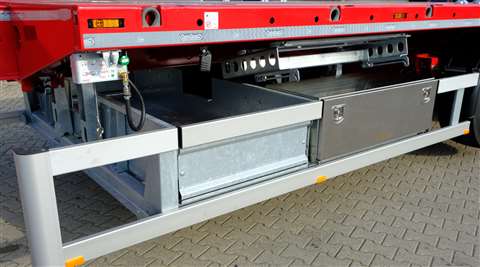 The Teletrailer Longrunner is equipped with LED side-marker lights in the side rave as standard. These can be fitted on the extensions as an added option. In order totry and increase road safety the rear side-marker lights operate synchronously with the flashing of the direction indicators. Nooteboom said it has done this in anticipation of future regulations regarding side-marker lights.
The Teletrailer Longrunner will be on display at Nooteboom's stand at the forthcoming Solutrans haulage and urban transport trade fair in Lyon, France, on 19-23 November 2019.