Eyes on the prize
By Christian Shelton03 April 2017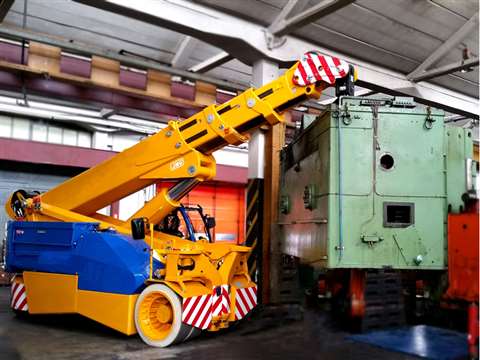 A crane from Italian manufacturer JMG Cranes is one of four finalists in this year's Swedish Steel Prize. According to the organisers of the competition, a record number of 102 applications from 32 different countries applications were sent in this year. The Swedish Steel Prize claims to be the only international award for engineers in the steel industry and is designed to recognise and rewarded innovative products, methods and processes utilising high-strength steel that have changed the industry in one way or another. It was founded in 1999 and is open to individuals, companies or institutions.
JMG Cranes has submitted its MC580 compact electric crane, which is suitable for use both indoors and outdoors, as its entry. JMG Cranes says its powerful pick and carry crane has great lifting capacity and a high performance-to-weight ratio that has been obtained through its optimised boom design that utilises ultra-high-strength steels. Additionally, the company claims efficient road transportation is made easy by removable support legs and counter weights.
The other three finalists are: Fermel (South Africa) for a mining vehicle; Kiruna Wagon (Sweden) for a dumper wagon; and Wabash National (USA) for a rear impact guard.
Eva Petursson, chairman of the Swedish Steel Prize jury, commented: "The high overall quality of the applications shows that this prize has an important role in promoting and even encouraging the industry to find new and innovative ways to use high-strength steels for higher performance,"
The winner will be announced at a ceremony in Stockholm on May 11, 2017.
Read more about the Swedish Steel Prize at: www.steelprize.com