Fabio Belli opens Summit with 'de-risk' plea
By Murray Pollok13 November 2019
The World Crane and Transport Summit in Amsterdam opened today with a call from Fagioli CEO Fabio Belli for heavy lift and transport contractors to consider joint ventures and other risk-mitigation strategies in response to more difficult market conditions.
Belli, giving the opening keynote address at the Summit, said that the lifting and transport sector should consider following the example of major EPC contractors, who have responded to lower capital investment in oil and gas – 40% down from the peak in 2014 - by creating joint ventures for major projects and by focusing more on project breakeven point and speed of execution.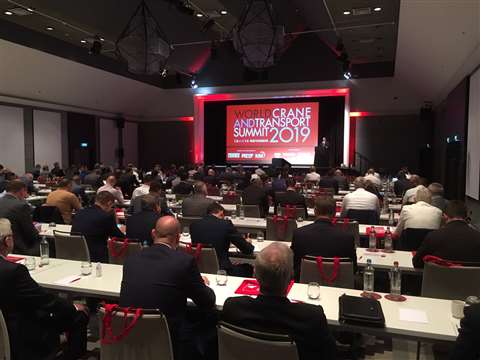 Belli said that the improving oil and gas price meant that some major oil and gas projects were now returning, but with rental prices for cranes and SPMTs and payments for loadouts still 30 to 40% lower than in 2014.
He said lifting and transport companies should consider joint ventures, mergers and acquisitions and asset sharing as means to improve profitability and reduce costs and risks.
"EPC conrractors are spreading the risk", said Belli, "We have to do the same. We have to think about physically joing companies. I think that is the right thing to do.
"We have to step back from ego and cooperate. Step back and look to the sustainability of this business."
He added that the industry should reinforce HSE practices to strengthen execution of projects and de-risk projects by having very well qualified lump sum contracts.
More than 200 delegates are attending the seventh World Crane and Transport Summit at the NH Grand Kransnapolsky in Amsterdam. The conference is organised by KHL Group and International Cranes and Specialized Transport magazine.