Facelift for Liebherr tower
By Laura Hatton27 October 2014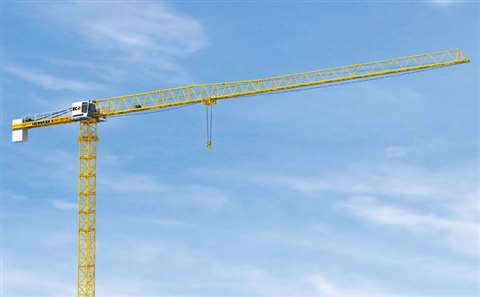 Crane manufacturer Liebherr has launched a facelifted version of its 160 EC-B flat top tower crane.
The new 172 EC-B 8 Litronic flat top crane has increased lifting capacity by 15 % compared to the previous model and it has a simpler erection process, the manufacturer said. The new model has a maximum capacity of 8 tonnes and can hoist 2.1 tonnes at the jib head with a radius of 60 metres. In addition, it offers free standing hook heights of up to 71.4 metres.
The new erection concept means that the load hook and trolley remain on the jib pivot section during transport, a spokesperson said. The hoist and trolley travelling ropes can also be reeved easily and it has improved quick-release fastenings on the cab and switchboard platform, the manufacturer said. In addition, it has quick-release electrical connections to ensure that the switchboard and cab can be connected quickly without any errors, the manufacturer added.
The model comes with a Liebherr 37 kW frequency converter-driven hoist gear. A 45 kW frequency converter hoist gear is also available. The crane offers hook heights of up to 328 m and empty hook speeds of up to 177 metres a minute. It also has the Litronic crane controller.