Falcon Lifts names USM ReRents as distributor
By Lindsey Anderson31 March 2020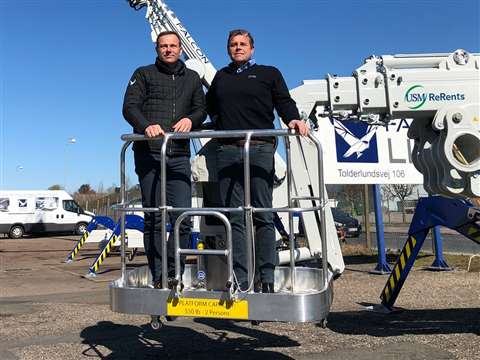 Falcon Lifts A/S has appointed USM ReRents as exclusive distributor for its Falcon Spider Lifts in North America. Falcon had previously been represented for over 20 years in the U.S. by Texas-based ReachMaster.
The distributor agreement includes the sale of Falcon Spider Lifts and after sales services, such as spare parts supply, service and maintenance activities within the territory. The companies said that Falcon Spider Lifts and USM ReRents will work closely together on strategic projects and operations in North America.
"At this point we intend to enhance and strengthen our sales and service representation in North America in a more direct and proactive way," said Thyge Mikkelsen, CEO of Falcon Lifts. "We see great and unexplored business opportunities in the market for our type of products and services.
"We are therefore excited about our new partnership and looking forward to start our cooperation with such a well-esteemed partner in North America. With the strong USM team, we see a bright future for our state-of-the-art Falcon Spider Lifts across the North American markets".
Mikkelsen also thanked the many years of close corporation with Reachmaster Inc., which was recently sold to the European lift manufacturer Ruthmann.
Ebbe Christensen, president of ReachMaster, Inc. said the two companies did not reach an agreement for a new contract.
"We regret it was not possible to reach an agreement for a new contract with Falcon Lifts A/S that would have allowed ReachMaster to continue 20 years' successful representation in North America where we took the company from zero market presence to a market leading position," Christensen said. "While the split might be a surprise to the market, it is the result of several factors. It started late 2018 where we saw an influx to the market of both many new manufacturers in the compact segment and a significant increase in track-based compact lifts that competed with the Falcon. The Falcon product is both state-of-the-art in design and performance, and as such a top shelf product from a purchase, operation and maintenance point of view. We openly discussed the market developments with the manufacturer, but sadly the parties were not able to agree on a future strategy, or realistic expectations relative to the changing market conditions."
ReachMaster, Inc. will continue to provide technical support and service to their current ReachMaster Falcon customer base as usual, including annual safety inspections and parts and repairs, the company said.
Christensen explained the decision was not based upon ReachMaster's recent sale to Ruthmann. "Falcon Lifts A/S indeed served proper notice on January 2, fully in compliance with our contract. It actually proved to be good timing as it allowed for full transparency for all parties," he said."Of course you just don't part ways after so many years without evaluating all of the options, including new opportunities associated with the new constellation of RUTHMANN ReachMaster. However, Falcon Lifts A/S demanded new contractual conditions that we deemed unusual for an exclusivity agreement and notably not included in our current or past agreements. After 20 year's representation we failed to see the need for these demands, at which point it became clear that it was better to part ways in an amicable manner and let someone else sign that check.
"The aerial lift business has always been a dynamic industry, and change creates new energy," Christensen said. "We are excited to continue our activities undeterred and we thank Falcon Lifts A/S for a great partnership for 20 years, and wish them and their new partners well."