Faraone introduces aluminium vertical mast
By Euan Youdale05 August 2014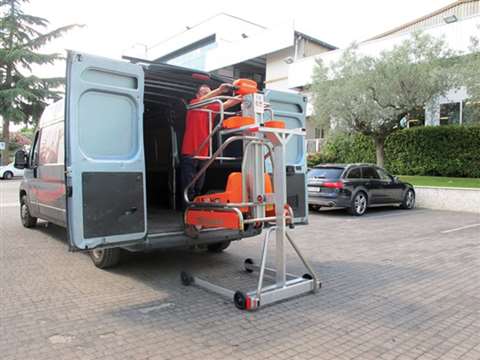 Italy-based Faraone has launched the 'super compact', self propelled Elevah 40 mast lift, with a working height of 4 m.
The aluminium machine weighs less than 150 kg and comes with ballast to provide stability. Its dimensions are 75 cm x 90 cm and is driven on three wheels, one of them being the drive wheel, making it easy to manoeuvre, said the company.
It also offers a patented traction system which works simultaneously with the lifting of the basket across its four stabilising feet.
With a capacity 150 kg, for one person, the Elevah 40 is designed for small maintenance jobs in shopping centres and craftsmen.
"The aim is to replace ladders that now are prohibited because they are dangerous," said a company spokesman. "You can define Elevah 40, thanks to its compact size and to its convenience, as an electrical ladder."
Beyond the traditional forklift or ramp, the Elevah 40 can be loaded automatically into a van, using a patented accessory.
Faraone said the sale price of the machine will be under €4000 when production starts in September 2014. "Our expectations are really high," said the spokesman, "Thanks to already received orders and for the interest shown towards the prototype at trade fairs."
The Elevah 40 will be presented to the Faraone sales team on 4 September at the company headquarter in Tortoreto on the Adriatic coast.