FEATURE: Blue sky thinking
By Helen Wright06 May 2016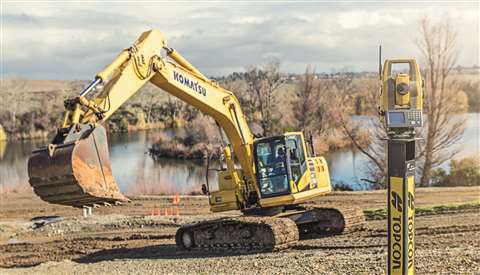 Per Stjernqvist, vice president of servitization and solutions at Trackunit, said most installed telematics solutions on compact rental equipment today provide simple data like position, machine hours etc. But he said future telematics would be much more sophisticated, transmitting even more data on engine- transmission- and hydraulic performance (known as CAN bus data).

"With the new low emission engines, compact equipment moves from the analogue to the digital age and it is exactly this transformation that creates new opportunities for the users of telematics," Mr Stjernqvist explained.

"The available data from compact equipment become big data, and rental companies can begin developing completely new customer services and solutions that will revolutionise the industry. We now see a clear trend towards developing new customer services based on telematics, and believe this will accelerate based on a new generation of telematics hardware that can collect big data."

Trackunit, which is under new ownership after its parent M-Tec Holding Pandrup was acquired in 2015 by Goldman Sachs and GRO Capital, is in the process of introducing its new 5-series telematics hardware range. The new models are said to enable CAN bus data to be transmitted online, around the clock.

"The real challenge is to transform these data into new rental services and solutions," Mr Stjernqvist said. "One emerging business area for us is to facilitate and support the rental companies in utilising and developing new innovative services. We believe that machine intelligence is the future and that telematics is just the enabler."

CAN bus data can reveal 'non-visual' misuse and abuse of equipment such as extreme overload: weight, engine rpm, hydraulic pressure, temperature, and vibrations. This kind of misuse can result in defects days, month or even years after. Such data could allow rental companies to offer bonuses or discounts to customers that handle the equipment correctly.

"Trackunit is developing new software that enables the machine to communicate with the operator and gives instant feedback on how he/she operates the equipment with the purpose of changing driving behaviour and minimising extreme overload. When you make a digital connection between equipment and operator (smartphone) you open up new opportunities."

Standardisation

Mr Stjernqvist also commented on the planned new construction equipment telematics standard from the US Association of Equipment Manufacturers (AEM) and Association of Equipment Management Professionals (AEMP).

The AEM/AEMP standard is planned to enable equipment users to gather more OEM equipment data into their business or fleet management software. The idea is to provide easier access, improved ability to manage and analyse information across fleets, and to help save time and money on the job site or within operations.

"From the rental company perspective there is a huge advantage in having a standardised data feed because you can collect data across all machine types and brands," Mr Stjernqvist said.

"The big question in the future of machine data is – who actually owns the CAN bus data? Is it the manufacturer, the dealer, the telematics supplier, the rental company or the customer who generates the data when operating it?"

This is a huge question for the future of the asset tracking industry, but for now manufacturers are focussing on refining what is already on the market. Key trends include extending asset tracking into areas with poor GPS signal, increasing the durability and longevity of the technology, and miniaturisation.

On the latter point, for instance, M2M and geolocation specialist Aguila Technologies has launched a new version of the 1000 miniature GPS tracker – the Sigfox, which is no available in 3G versions for US markets as well as GPRS for the European market.

Designed for under 5 tonne operating weight machinery in the rental and public works sectors, the tracker weights 34g and measures 40mm by 44mm by 17mm and offers a bluetooth sensor and a three axes accelerometer.

Accurate to 3m, it was introduced to European markets in 2015 where it has seen good success, according to the developer. Together with a horizontal movement sensor, the Sigfox also boasts a vertical movement sensor and impact sensors, GSM or Sigfox data transmission, and various power-management scenarios making possible long-lasting and complete energy autonomy.

The updated 2016 model boasts a high capacity battery that requires no wiring, and can be easily hidden on the machine. The idea is to offer both a fast and precise fleet overview, and alert fleet owners if equipment is being misused, or stolen.

"This is the result of our geolocation experiences in difficult real-world situations and also of Aguila's advanced R&D", said Hubert Forgeot, founder and CEO of Aguila Technologies. "With this mini geolocation system we have a significant competitive advantage over current units, which are larger and have much shorter battery lives."

Trimble, meanwhile, has introduced a new version of its GCS900 Grade Control System and CCS900 Compaction Control System. Performance has been improved for dozers and machine-to-machine communication capabilities for compactors.

This is an interesting product bundle, as it combines machine control elements with asset tracking technology – so not only does CCS900 version 12.7 introduce wireless data share for machine-to-machine communication (giving operators the ability to share mapping data between compactors on the same site in real-time", but it also communicate using a Wi-Fi network via the Trimble SNM940 Connected Site Gateway telematics device.

This means that wireless data share allows each compactor to see the work being done by other compactors in real-time, so operators know which areas have been compacted, and which areas still need to be completed.

And the mapping information is also synchronised back to the office for progress monitoring, and compaction documentation and reporting, using Trimble's Vision Link asset management and project monitoring software.

Boosting efficiency

Similarly, Danfoss Power Solutions has expanded its telematics platform with four new products boasting remote service, efficiency management, fleet management, anti-theft, operator safety and connectivity applications.

Easy-to-develop, custom applications are offered through its PLUS+1 GUIDE (Graphical User Integrated Development Environment) system that uses drag-and-drop editing.

By combining machine-integrated technology, cellular network connectivity, data transfer via Wi-Fi and a customisable, intuitive user interface, the Danfoss telematics solutions platform gives fleet owners visibility of how, when and where their equipment is used.

"Telematics data is only useful if it can be easily understood and managed," said Marco Tacke, product marketing manager of telematics solutions at Danfoss Power Solutions.

Hilti, meanwhile, has launched ON!Track – an asset management system which it said allowed companies to control all the equipment in their inventory; regardless of item, size and manufacturer. The system is said to show where assets are, what condition they are in and which employee is responsible for them at any given moment.

Hilti ON!Track uses special durable Radio-Frequency Identification tags, available in four sizes and placed on the body of the asset. They can be read with the new Hilti AI S1/4 Scanners from a distance of up to 1.5m – allowing entire batches of equipment to be processed in seconds. The scanners also connect over a mobile network or Wi-Fi, updating the secure cloud-based master record instantly, which can be viewed by web or mobile.
This is a feature from the April/May 2016 issue of IRN. To read the full article, with extra images and information, subscribe to the magazine: http://www.khl.com/subscriptions/magazines/international-rental-news/