Feature: D&Ri100 – qualified success
Positions 1 to 10
Having posted a turnover in 2015 that was more than twice that of its nearest rival, NorthStar retaining top place was not a surprise, but a fall in revenue of more than $80 million was, as the company experienced a softening in several markets. Second placed Keltbray, based in the south of England, continues to win awards for its work on the demolition of the Earl's Court exhibition centres in the west of London.
And the two major movers in the top 10 Erith Contractors (3rd) and McGee Group (5th), are also based close to London and both had notable project profiles during 2016.
Erith's projects included former commercial (Stanhope Gate), industrial (Westferry Printworks) and residential (Aylesbury Estate) buildings in the UK capital, and it also undertook the lucrative demolition of the BMS pharmaceutical site in Ireland.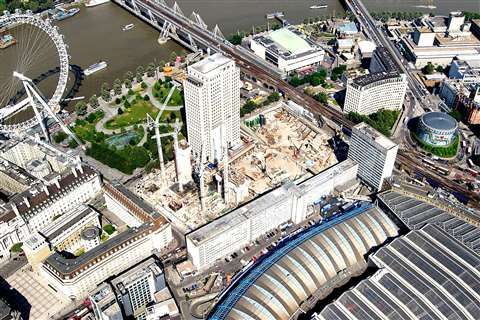 McGee completed the demolition works at London's Southbank Place, one of the largest demolition projects to take place in the city last year.
In the prestigious area of Mayfair, it dismantled the 1930s facade of MacDonald House, brick-by-brick.
Meanwhile, a 180,000 t excavation by the company in Leicester Square has resulted in the delivery of London's deepest hotel basement.
Positions 11 to 20
In the southern hemisphere, McMahon Services Australia (15th) completed several projects across the country including the Nelson Point decommissioning at the BHP Billiton iron ore plant in Western Australia, Augusta power station in the south, a decommissioning and decontamination project for Alcoa in New South Wales and phase one of the TCC removals project at Exxon Mobil in Victoria.
In addition, the company made significant fleet investment including the Komatsu PC4000 with Genesis 2555R heavy duty long reach shear, Komatsu PC850 and hammer attachment, and the Sennebogen 830E. There was an impressive performance from US company Ferma Corporation (17th). Ferma' s projects over the years included demolishing the 84,000-seat Stanford Stadium in Palo Alto, California – one of the venues at the 1994 World Cup football competition – all in the space of two weeks.
Compressed time schedules were a feature of the range of projects the company has taken on, including a 1.9 km (3 mile) stretch of San Francisco road on a single weekend. For one project, which involved taking down a road over the 45 m (150 ft) high Crystal Springs dam in San Mateo, the company converted its machines to run on peanut oil, avoiding the danger of a hydraulic spill into the water, and its recycling rate on projects is regularly above 99%.
Positions 21 to 50
Delsan AIM (23rd), which provides decommissioning and demolition services to institutional, governmental and commercial clients, completed a diverse range of projects during 2015-16. These included Mirabel Airport (on behalf of Aéroports de Montréal), a five-level 23 m (75 ft) high concrete and steel-framed structure with an overall footprint of 32,330 sq m (348,000 sq ft). The company was responsible for the project to demolish the Grand Falls paper mill in Newfoundland, which had operated for 100 years until its closure in 2009, while it also provided demolition and civil engineering services to the C$3.7 billion (US$2.7 billion) CN Tunnel replacement project in Quebec, and demolition and recycling for the Bruce nuclear generation station in Ontario.
United Kingdom-based DSM Demolition (27th) has continued to progress, its most significant project being the deconstruction of several buildings as part of the £500 million ($650 million) regeneration of Birmingham city centre. At the end of the year, the company executed the ultra-high reach demolition of the 17-storey Grosvenor House hotel in Sheffield in the north of England. In terms of its fleet, DSM's policy has been to replace anything more than three years old, which resulted in a total investment of £4.5 million ($6 million) in 2016.
DSM was the subject of a management buyout in April 2017, merging with brownfield developer St Francis Group in a deal backed by Metric Capital Partners.
For Hughes and Salvidge (42nd), based in the south of England, 2016 was a buoyant year. Flagship projects at Ford Motor Company in Southampton, Castle Markets in Sheffield, and Versalis Chemical Plant in Hythe helped the company increase turnover significantly from 2015.
It also invested in new, low emission Hitachi plant to boost its fleet and continue to be as environmentally friendly as possible, an approach that was rewarded with a Recycling and Environmental World Demolition Award and continued Carbon Trust certification.
Positions 51 to 75
PP O'Connor (54th) has worked on major demolition and dismantling projects such as Faraday Building Manchester University, PVC 8/VDC 4 Plant Runcorn, Shot Tower Chester, Liverpool Lime Street, LCC Lodge and Merseylink Bridges.
It operates a full range of fully maintained high-tech plant and machinery ranging from a 1 t excavator to the Cat 349 high reach and Hitachi 870, and continues to invest and research in plant and equipment to acquire the most economically viable state-of-the-art machinery.
Dutch company DDM (57th) specialises in dismantling, relocation and demolition projects in the heavy industry, power generation and petrochemical industries in Europe and worldwide.
DDM has recently invested heavily in a new energy efficient fleet with lifting cranes, high-reach machines with scrap shears and sorting grapples. It uses 3D modelling and animating are used for the engineering of complex projects.
Positions 76 to 100
Cawarden (80th) continued to expand in 2016 following a successful 2015. The year saw Cawarden's continued commitment to investment adding more than £1 million ($1.3 million) of machinery including a new Liebherr R936 crawler excavator.
Key projects included clearing the former Derby Royal Infirmary, demolition and alteration works at the Mander shopping centre, Newark Academy school, Dayncourt school, and Hinckley Leisure Centre.
Cawarden also invested more than £40,000 ($52,000) in training for its personnel, including many younger employees.
Envirovantage (93rd), based in the New England area of the USA, has successfully participated in many of the region's landmark projects, including Boston's North Church, Harvard's Sackler Museum, Dartmouth College and numerous military and government instillations.
New entry the Wring Group (94th) completed several prestigious projects in the United Kingdom, as well as in Bahrain and the United Arab Emirates, as well as making an investment of around £2 million ($2.6 million) in new workshops, crushing and screening plant, and machinery attachments.