Feature: Foundation construciton innovation
By Chris Sleight10 June 2015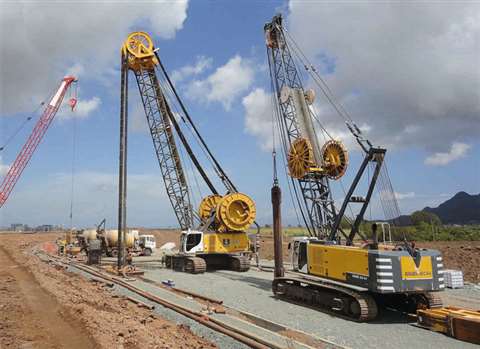 Specialist foundations contractors often have to contend with difficult and unexpected ground conditions, so it is important to have the best tools for the job available.
For example, Golden Tri Star (GTS) is using the first Liebherr rotary drilling rig in Myanmar to sink piles for a condominium project in the capital Yangon's Kandawgyi Lake embassy district. The LB 28 drilling is installing piles on The Illustra At Pho Sein, a 31-storey apartment project, on Pho Sein Road.
The developer of the project is PSWN Development Company which has sub-contracted geo-engineering specialist GTS to carry out the foundations work using its 320 kNm maximum torque Liebherr rig.
Project manager Phyo Win Aung said that the ground at the 5,000 m2 site consists largely of silt and has water table less than 2 m below the surface.
"The ground is very soft, and we are having to install a total of 144 reinforced concrete piles," he said. "Because of the softness of the ground we cannot use an auger, and are digging out the soil with a grab."
There are three sizes of pile to be installed - 11 will be
800 mm and sunk to a depth of 55 m. Then there will be 62 1.2 m diameter piles to a depth of 57 m as well as 66 1.35 m diameter piles, also sunk to 57 m.
"Despite the depth of the piles, we are not reaching bedrock," said Mr Phyo. "Much of this part of Yangon has this very soft, silty, wet soil, as we are very near to the Yangon River."
The first work for the LB 28 was on the 1.2 m diameter piles, which takes between eight and nine hours per pile. Foundation work on The Illustra is expected to take four months, with overall project completion due next year.
"This is the highest torque rotary drill rig that has to date been used in Myanmar," said Damien Loh, regional sales manager for crawler cranes and foundation equipment at Liebherr Singapore, which supplied the rig.
"There are many high-rise projects that are due to be built in and around Yangon, and given the soft ground conditions, and the need to sink multiple concrete piles to great depths, we feel there is a considerable potential in Myanmar for high-torque machines such as the LB 28," he added.
Meanwhile in Europe, contractor Entrapaulus is using a 40 tonne capacity Sennebogen mobile crane for foundation construction work on the Royal20 project in Luxembourg. The scheme is an eight-storey office building with over 4,500 m2 of floor space, which will have a diamond-like exterior.
The city centre site on the famous Boulevard Royale is very confined, and the main job for the Sennebogen 643 M model crane is to lift earth and building materials out of the excavation pit. This goes to a depth of 15 m and will include an underground car park.
The choice of the Sennebogen 643 M to lift out excavated materials came down to the machine's powerful performance and compact dimensions. The undercarriage length is just 6.87 m and it has a transport width of less than 3.0 m, which meant the crane could taken to site on a flatbed truck and positioned close to the pit without obstructing the sidewalk. In terms of performance, the 643 M offers a 30 m long telescopic boom which can be operated under load and a 128 kW diesel engine which provides ample power.
Another critical aspect in choosing the 643 M was the Maxcab comfort cab, which can be elevated up to 2.0 m to give the operator a view of the pit and truck loading area. A camera system and lighting package contribute further to visibility and site safety.
In Germany contractor Karl Fischer used a range of Wirtgen equipment to improve ground conditions on a 50,000 m2 plot ahead of construction of a new manufacturing facility for engineer and façade maker Riva in Backnang, Germany.
First a Wirtgen SW 16 MC Streumaster was used to spread the binding agent. Mounted on a three-axle truck, with a
16 m³ silo for the binder material, the unit was able to dispense ten full loads of quicklime per day for a total of 6,000 tonnes across the entire site.
Spreading and distribution of the binder was controlled electronically by the machine, with a system that integrates the conveyor chain, transverse augers, metering feeders and control terminal for accurate results.
This was followed by a Wirtgen WS 250 tractor-towed stabiliser and a WR 200i self-propelled recycler/stabiliser. Although the WR 200i is the most compact machine in Wirtgen's stabiliser range, it was able to mix the soil and binding agent to a depth of 500 mm across a width of 2 m per pass. The company said this allowed it to achieve daily production levels of up to
8,000 m2 on the project.
Project manager Max Bachteler of Fischer said, "Despite the high performance, the machine is very economical thanks to the low fuel consumption. The quality of the stabilised soil also impressed me."
Finally, H 20i rollers from sister company Hamm were used to compact the ground. Mr Bachteler said, "The job was completed successfully and on time thanks to well-planned logistics, properly coordinated work processes and the right machinery."
A much larger scheme saw Bauer Spezialtiefbau carry out a
€ 35 million (US$ 39 million) foundation construction contract for the Bagatelle Dam in Mauritius. The scheme is designed to improve the provision of drinking water on the Indian Ocean island.
The main contractor for the scheme is China International Water & Electric, working for the Mauritius Ministry of Energy and Public Utilities. Bauer's foundations sub-contract involved the construction of a 2.4 km long diaphragm cut-off wall totalling 57,700 m2 socketed into rock. The soil included areas of very hard basalt, and the company used a combination of a Bauer MC 96 duty-cycle crane and a MC 128 with a trench cutter and two grabs for the project.
New equipment
Bauer is also now offering an Energy Efficiency Package (EEP) for its rotary drill rigs, which it says can deliver up to 30% fuel savings in winch operations and up to 20% when drilling.
The company achieved this by re-engineering the winch so energy can now be recovered when lowering the tool. Bauer said there was also better efficiency in lifting, higher speeds and improved operation of several functions at once.
In addition, the company looked at ancillary systems such as fans and optimised these, which has helped cut fuel consumption as well as noise emissions. It said a special hydraulic fluid with a favourable viscosity over a wide temperature range could be used to increase efficiency further.
Similarly, Liebherr's HS 8300 HD duty cycle crawler crane now features the company's Pactronic hybrid drive, which captures waste hydraulic energy for storage and reuse by the machine. Liebherr says this increases capacity and hoisting speeds, while reducing noise and maintenance, and delivering "significant" fuel savings.
Also new from Liebherr is the LRB 355 piling and drilling rig. Based on the long, stable undercarriage design of Liebherr's pure drilling rigs, the LRB 355 has been designed for drilling with a full displacement tool. However, it can be used for a number of different applications including Kelly drilling, double rotary head and continuous flight auger drilling, soil mixing and piling with vibrators and hydraulic hammers.
Options include an automatic engine stop control, which shuts down the engine during long breaks to save fuel. There is also an eco mode to help save fuel.
Liebherr says it designed the LRB 355 with transportation in mind. It can be transported with the leader, multi sledge and rope still attached and leader can be folded to reduce transportation length.
New from US crane manufacturer Link-Belt is the 50 tonne TCC-500 which has joined the 70 tonne capacity TCC-750 and the 100 tonne capacity TCC-1100 to complete its line-up of telescopic boom crawler cranes. The TCC-500 has a four-section, full-power boom and has a standard counterweight package of 11.3 tonnes.
The model can be transported in most countries, while staying under 45.5 tonnes. It is powered by a Stage IV/Tier 4 Final Cummins QSB engine. A Stage IIIA/Tier 3 version is also available.
"The TCC-500 has a variable displacement piston pump package, which is designed to provide positive and precise control with independent or simultaneous operation of all crane functions, like when using an auger or pole claw attachment," said a company spokesman. "The TCC-500 can also hydraulically extend its tracks for three working track gauges including fully extended, intermediate and fully retracted."
BSP has introduced its new HP 260 Hydro Pack, which is now fitted with a Stage IV-compliant low emission Cat C9.3 engine for developed markets or the Stage IIIA version for other parts of the world. The unit is designed to power piling hammers, and the new engine is said to offer 4% fuel savings compared to its predecessor.
As well as the clean engine, the new Hydro Pack range include a redesigned, robust, welded steel skid frame with bund for containment of spillages, lockable access doors and a tank-mounted hydraulic filter with sensor for service indication, while the hydraulic oil temperature is controlled by an independent air blast cooler. Control panel functions include, engine rpm and emergency stop,
BSP senior sales manager Ray Ransome said, "Installing this Tier 4 Final, Stage IV engine continues our tradition of providing quality products with built-in durability, reliability, low cost of ownership and fuel efficiency. BSP is the first OEM in the UK to equip its power packs with this new engine."
Pile Dynamics has released a new version of its Pile Driving Analyzer (PDA) system, the PDA-8G, for dynamic load tests of deep foundations. Like previous PDAs, this 8th generation model performs the test normalised by the American Society of Testing and Materials standard ASTM D4945.
The new model features the company's updated SiteLink technology, which transmits test data in real time from the field to an office computer at an alternate location. However, those using the PDA-8G in the field will appreciate the thinner design of the tablet computer.
The unit is offered with either four or eight universal channels of data acquisition, all compatible with cabled and wireless sensors, which the company said was important for testing large diameter shafts.
Clearly technology is moving on in the sector, with machines getting more fuel efficient and modern software and computer technology making access to site data quicker and easier than before.