FEATURE: Mixing technology
By Sarah Ann McCay25 July 2014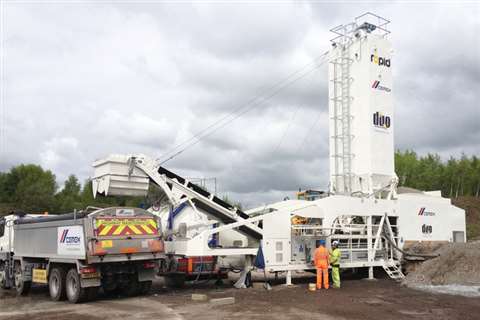 As construction programmes get shorter, the challenge for mixing equipment manufacturers is to provide technology that delivers homogenous concrete and asphalt with short mixing times. Add to this the desire for the equipment to be either mobile or easy to set up/break down and the pressure is on for manufacturers to up their game.
When it comes to concrete there are many types of mixer and each has its own characteristics. The three most popular are twin-shaft mixers, which offer high intensity mixing and short mix times; vertical axis mixers, usually used for precast and prestressed concrete; and drum mixers, which can handle large volumes and provide the lowest operational costs.
Concrete mixing trucks provide a fourth alternative. These can be filled with dry materials and water to be mixed en route. More commonly though they would transport a ready-made batch of concrete, with the mixer being used to stop the materials segregating on way to site.
Demand up
US manufacturer Blastcrete Equipment launched its upgraded MX-10 mixer/pump in April 2014 and says it has been overwhelmed by demand.
It said the upgraded unit offers the fastest, most efficient mixing capabilities in its segment of the industry. Its new, closed-loop hydraulic circuit delivers greater speed and torque to mix dense refractory materials in less than two minutes.
"We have seen a great boost in demand for our MX-10 concrete pumps. We are selling them as fast as we can manufacture them. Overall, we're seeing increasing demand on all of our equipment that is used in construction-related applications," said Blastcrete general manager Maury Bagwell.
The MX-10's hopper handles up to 1100 kg of material, and its high-speed hydraulic agitator keeps materials blended and in suspension as the material flows to the pump. The unit's 75 mm swing tube piston pump operates with up to 2,200 psi (152 bar) for consistent installation of as much as 10 tonnes of material per hour.
The unit is mounted on dual 3-tonne capacity axles with electric braking and lights for enhanced safety when travelling. Lifting eyes on the platform allow operators to use a crane to lift the machine and place it on a flatbed for travelling longer distances. Blastcrete offers the MX-10 with an optional skid-mounted framework that reduces the overall length, width and height of the machine for easier transportation. The MX-10 can be powered by a diesel engine or electric motors.
Further development from Blastcrete has seen the manufacturer add a safety interlock system on all mixers. "This trap key system requires a key to open the grating or any of the doors into the mixer. This means an operator has to shut off the mixer before opening the unit, and the mixer's doors and grating need to be completely closed and locked before he can start the mixer again," Mr Bagwell explained.
High volume
UK-based Rapid International has also seen demand increase for its mixers, having completed a deal with Cemex Paving Solutions for its new Rapidmix 400 CW high volume mobile continuous mixing plant.
"With the increase in use of cementitious materials such as roller compacted concrete the new Rapidmix 400 CW was the ideal choice for Cemex UK. The machine offers Cemex UK multiple benefits including low operating costs, excellent mobility and high outputs to meet the challenging demands of today's projects. The addition of the Rapidmix 400 CW will undoubtedly help Cemex deliver best value to all our clients," said James Playford, business development manager, Cemex Paving Solutions.
Fully mobile and self-contained, the Rapidmix 400 CW offers a complete plant powered by its own power source, with on-board compressor and generator.
The unit is easy to assemble and break down thanks to its self-erecting system, which used hydraulics to change from travel mode to fully operational within a few hours.
The Rapidmix 400 CW has a capacity to produce up to 400 tonnes of concrete an hour. The mixer comes with weighing options for all materials - aggregates, cement and water – providing automated usage data.
It can be used for roller compacted concrete (RCC), cement bound materials (CBM), bentonite enriched soils, coldmix bitumen emulsions, contaminated land treatment and recycled asphalt paving (RAP).
Also in the UK, Nurock Mixers Ltd has specialised in batch on-site, concrete mixers since 1987. The company has introduced its new Cubic range of volumetric mixers, ranging in capacity from 1.5 m3 to 9.2 m3.
Popular range
"Our latest addition to the range is a new 4 m3 version that offers good payload/capacity with great manoeuvrability. Its unique design also offers the best weight distribution in its class," said managing director Graham Jones.
The new range has proved popular, with Coppards Plant Hire and Concrete of East Sussex purchasing a new Cubic-9 series volumetric concrete mixer earlier in the year. The mixer has a 9.2 m3 capacity and is mounted to an 8x4 Volvo chassis.
Nurock has a reputation for delivering quality. The manufacturer is supplier to the British Army's Royal Engineers. The corps took delivery of 10 truck mounted Nurock volumetric mixers in 2011 and they have been on active duty ever since.
The mixers have operated in a number of locations across Europe and Africa and can be deployed anywhere in the world in support of operations. The largest project undertaken so far has been in Kenya where concrete has been mixed for use in the construction of a training facility.
Nurock's technical team works closely with the Royal Engineers to provide assistance and parts when required. The mixers are expected to be in service for the next 10 years.
Twin technology
Italy-based manufacturer Simem offers a wide range of mixers. The company is currently promoting its MDC and MSO models.
The Simem MDC continuous flow mixer adopts twin shaft technology and is especially designed for zero slump concrete and RCC.
The MDC is offered in two main variants, MDC200 and the MDC500. Options include side overflow discharge, extended tank, stainless steel tank, and inflows for water or any other materials.
The Simem MSO is also a twin shaft mixer. Available in models ranging from 1 m3 to 9 m3, the mixer is suitable for any type of concrete, from wet to zero slump, with aggregates up to 200 mm in diameter.
All Simem models come with the company's Mixer Mind electronic check system, which monitors temperatures and power consumption.
Asphalt
Asphalt provides even more challenges when it comes to mixing, especially due to the rise in popularity of reclaimed asphalt pavement (RAP) as a material..
Mixing asphalt and aggregate to make asphalt concrete (AC) is all about temperature options. Hot mix asphalt concrete (HMA) can see aggregates heated to as much as 150°C while the asphalt is heated to just below boiling point, at 95°C. This is favoured for high-traffic paving, such as highways and airport runways.
Warm mix asphalt concrete (WMA) is made by adding zeolites, waxes, emulsions or water in the mixing process. This is a more eco-friendly option as it uses less energy and produces fewer emissions and carbon dioxide.
Mixing the asphalt with water and soap, before adding the aggregate, produces cold mix asphalt concrete. Cold mix is most often used as a patching material and on less busy roads.
US-based asphalt plant manufacturer Astec launched a number of new product lines at the ConExpo-Con/Agg exhibition earlier this year.
The manufacturer has increased the ability of its signature Double Barrel drum dryer/mixer to handle RAP. The Double Barrel HR includes enhancements to the drum which allows use of up to 65% RAP. The company also offers its 100% RAP plant – the RAP King.
Astec president Malcolm Swanson said, "The Double Barrel HR is a key product in the Astec line. It fulfils a need for those producers who already run high percentages of RAP and in whose markets the trend toward running more RAP is expected to increase."
Astec also introduced its 120 tonne per hour Voyager plant. The Voyager 120 has the ability to run up to 30% RAP and offers a compact, highly portable design.
The Voyager 120 is built around a counter flow drum featuring Astec v-fights. The v-flights provide greater uniformity of the aggregate veil during the drying process, which results in better heat transfer, a reduction of fuel use and increased productivity.
To enhance portability, a hydraulically driven swing out drag and batcher can be set and ready to go in 10 minutes. Other features include a reverse pulse baghouse, a control cab with fully automated PLC controls, gravity take-up with direct drive, air ride suspension and up to five cold feed bins and two RAP bins.
Drive-by
Also in the US, RoadMixer offers a volumetric hotmix asphalt (HMA) mixer truck capable of carrying a 10-ton (9.09 tonne) payload and producing up to 10 tons (9.09 tonnes) of asphalt concrete an hour.
The RoadMixer offers three separate aggregate bins that enable operators to deliver binder or surface mixes on demand. Materials are volumetrically mixed, heated and combined with asphalt cement to produce easily workable HMA.
The RoadMixer comes with an on-board mix computer. The vehicle is also equipped with an auxiliary hydraulic circuit capable of powering a hydraulic breaker hammer or a diamond saw. An infrared heater is optional.
Meanwhile, asphalt plant specialist ADM has launched a range of asphalt cement tanks to provide an economical way to store and monitor liquid AC.
Constructed of heavy-duty steel, the tanks can store up to 130,000 litres. Designed with a serpentine coil arrangement to provide a heat exchange area of 365 m, the tanks provide a consistent temperature. A fiberglass blanket insulation combines with a stucco-embossed .016-gauge banded aluminium jacket to protect the tanks and prevent heat loss.