FEATURE: Practical lighting
By Helen Wright26 July 2016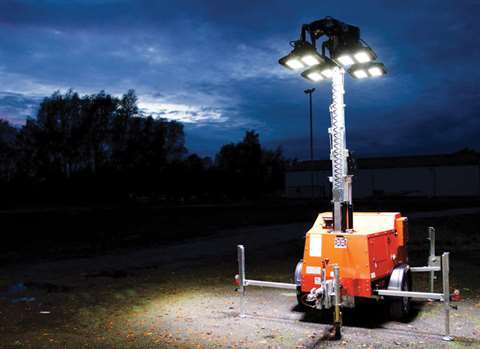 Himoinsa has introduced a new gas-powered lighting tower targetting rental fleets - the AS4012 LPG. Said to be unique on the market, it is fuelled by four LPG cylinders, and powered by a Yanmar 3GP88-GB1PB engine, whose additional power for auxiliary supply rises to 5kW (50Hz) and 7kW (60Hz).

Manuel Aguilera, gas product manager at Himoinsa, said the new model was well-suited to the oil and gas rental markets as well as rental companies wanting to offer emissions reductions.

"We think the AS4012 LPG lighting tower is the first 100% LPG lighting tower on the market. It can run for 26 hours on four LPG tanks," he said.

"It's well-suited to inner-city working, and the events market. Versatility is key here. We have also developed a gas-powered genset – the HRGP 60 T5, with an integrated LPG tank. It can also run off external LPG and external natural gas. The idea is to offer packages for rental companies. "

The AS4012 LPG also offers reduced oil change intervals – changes are needed every 500 hours, compared to the 200 hours required by diesel engines. The new model has four 1.000W lamps and its mast can be rotated 360o, lighting up to 32000m2.

LED Launches

Meanwhile, a string of new LED lighting towers have also entered the market. For its part, Atlas Copco said it had now completed its HiLight range – a seven-model lighting tower series, including four LED models. The HiLight range comprises of the H5+, B5+, V5+ models, as well as the E3+ LED light tower, in addition to the V4, H4 and E2 metal halide variants.

The latest edition is the HiLight H5+, with four LED lamps each projecting 350W of light. It is capable of illuminating an area of 5,000m2. And the model's compact size means 10 units can be moved on a standard 13m truck, according to Atlas Copco.

Similarly, the HiLight B5+ model features a compact box-unit design, which makes it well-suited for mass transportation and easy installation. And the new HiLight E2 and E3+ are electric models – Atlas Copco said users simply connect to any power source, including auxiliary power, electrical generator or directly into the grid.

It added that the LED light towers, depending on the model, offer a run time between refuelling of 260 hours and consume less than 0.5 litres of fuel per hour.

Morris Site Machinery's SMC TL-90 ELV is another new low voltage LED model – described as one of the most efficient extra low voltage lighting towers on the market.

Compact and easy to transport, it boasts four 300W LED lamps offering a spread of up to 100m. The company said this model offered 165 hours of uninterrupted operation.

And SDMO has launched the first model of its new LED lighting tower – the RL4500-5.

Boasting three 450W LED spotlights, the new model offers low fuel consumption. The LED spotlights are also said to be "extremely" heavy duty and designed for use in tough conditions.

Another new LED model comes from Paclite in the form of the PL-2000 LED Eco. The manufacturer said the principle features of the PL-2000 LED Eco included 8m maximum height, manual rotation through 340o, four 500W LED heads and lifting points for cranes or forklifts.

Other advantages include compact transport dimensions and a low operating weight of 750kg. The unit is powered by a 24kW engine.
Ritelite Systems has launched its new 5m working height K50 and 6.5m height K65, available with a range of metal halide or LED light heads. The new models also boast a rapid one-person deployment system – the company said they could be deployed by one person in under three minutes.

New on the halide side of the market is Allmand's Night-Lite Pro II – designed for the European market and featuring two diesel engine options, outlets for auxiliary power, a 50 Hz Alternator (generator), and four 1000W metal halide fixtures. Allmand said it was able to ship twenty units in a forty foot container. The 114 litre fuel tank also provides up to 65 hours of continuous operation.

Compact models

And manufacturers are busy squeezing more lighting power into smaller dimensions – targeting the highly portable end of the market, for instance, is Paladin, which has introduced the Case Light CLU10K, which folds up and fits into a case.

Weighing 7.9kg, the CLU10K offers up to 10000 lumens of LED light for four hours on cordless battery power and can be deployed in under 15 seconds, according to the manufacturer. Brian Richardson, executive vice president of sales, said the aim was to make a quick-deploying, bright and battery-powered light.

"Industrial contractors have increased demand for compact, portable models like the Case Light," he said, adding that LED technology was allowing smaller, more portable designs to be developed.

"An item like this reduces the need for additional staff, vehicles and cumbersome equipment. Because of its ability to withstand harsh conditions and quickly access remote locations, unlike heavy and fixed lighting, we also notice a high demand within the law enforcement and first responders communities."

Meanwhile, Generac Mobile Products is offering buyers the opportunity to customise their lighting towers. The company has launched a new version of its Cube+ lighting tower and generator.

New features include an integrated control panel; 24V LED lamps (230V metal halide also available); and a modular design that allows for single, twin or three cylinder engines, plus a hybrid.

The hybrid option comprises a battery pack and single-cylinder diesel engine and renders a running time of around 700 hours on one tank of fuel. In addition, when the unit is operating via the battery pack, the CUBE+ has zero noise output and no carbon emissions, according to Generac. The special dry batteries can be recharged in less than 5 hours and have a 100% guaranteed charge/discharge cycle of more than 4000 hours.

And Generac is seeing brisk demand for its hybrid lighting sets – UK rental company A-Plant, for instance, recently invested in a further 26 Generac VT-Hybrid sets to help its customer Costain with a road-building project. This lighting set also features a battery/diesel system with auto-charging technology.

Costain said it had recorded fuel demand reductions of up to 75% using hybrid units – with total fuel consumption for a 12-hour shift of just 3 litres in some cases.
This is a feature from the June 2016 issue of IRN. To read the full article, with extra images and information, subscribe to the magazine: http://www.khl.com/subscriptions/magazines/international-rental-news/