Feature – World of Concrete
World of Concrete returns to Las Vegas on a 10-year high. The organiser said the 2019 show exceeded all expectations across the board and was the largest in over a decade.
The annual event attracted more than 60,000 registered professionals and featured over 1,500 companies exhibiting across 72,000 sq m (776,000 sq ft).
Not surprisingly, group director Jackie James said after this year's exhibition: "We look forward to a successful WOC 2020!"
Now that time is almost upon us, and here are some of the demolition-related companies who will be exhibiting this time.
Blastrac claims to save contractors both time and money on jobs such as demolition and renovation, concrete repair and restoration, general construction, flooring, painting and coating, bridges and highways, airports, remediation, utility, marine, storage tank maintenance and others.
Blastrac machines prepare concrete, steel and asphalt surfaces. Shot blasting leaves the surface ready for coatings or overlays, eliminating costly disposal procedures.
Bobcat equipment includes skid-steer, all-wheel steer, and compact tracked loaders, compact excavators, mini track loaders, VersaHandler telescopic tool carriers, utility vehicles and Toolcat utility work machines. With over 600 dealer locations in North America, Bobcat is a leader in compact equipment.
Case Construction Equipment sells and supports a full line of construction equipment around the world, including backhoe loaders, skid steers, compact tracked loaders, excavators, crawler dozers, motor graders, wheeled loaders, vibratory compaction rollers and rough-terrain forklifts. Equipment and aftermarket support, warranties and flexible financing include ProCare, the comprehensive factory-provided heavy machine coverage that comes standard on all Case heavy machines built with Sitewatch telematics.
Caterpillar provides solutions to build a successful concrete and masonry contracting business, with a full range of construction equipment, more than 35 types of work tool attachments and a large dealer network for parts, service and support. It also provides operator training and comprehensive safety materials and programmes.
Conjet is a specialist in the design, development and manufacture of remotely operated, computer controlled high-pressure water jetting robots. These are used for hydrodemolition, where a high-pressure water jet removes concrete from sensitive structures such as bridges, car parks, dams, canals, tunnels, quays and jetties. Conjet offers a series of Robots and Jetframes as well as custom made hydrodemolition units ready to connect to Conjet Powerpacks or other high-pressure water pumps. The robots can handle reaction forces from 250 up to 4,000 N.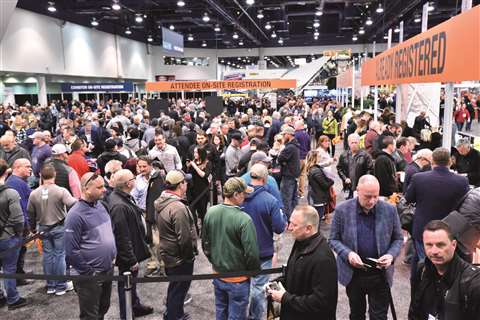 The Concrete Sawing & Drilling Association (CSDA) is a not for profit trade association of contractors, manufacturers and affiliated members from the construction and concrete renovation industry. Its mission is to promote the selection of professional concrete sawing, drilling, polishing, imaging and selective demolition contractors.
Doosan Infracore North America
Doosan Infracore North America, headquartered in Georgia, markets the Doosan brand of products including large excavators, wheeled loaders and articulated dump trucks. With more than 160 heavy equipment dealer locations in North America, Doosan is known for its dedication to service and customer uptime, and durable, reliable products.
Dustcontrol's portable and central vacuum systems are designed to eliminate small to very large dust problems through a source capture method that effectively collects airborne particulate prior to entering the operators breathing zone. High-velocity, low-vacuum systems flow around special casings that surround the cutting edge of a worker's tools and never allows dust to become airborne, capturing 95% of airborne dust generated.
Contractors have tough jobs, and the Dustless mission is to make the elimination of dust, slurry and other mess as fast and easy as possible by giving the customer the tools it needs to get the job done cleanly and easily.
Geith is a leader in the design and manufacture of excavator attachments — including buckets, thumbs and quick couplers, as well as grapples and concrete crushers. With more than 50 years of proven engineering experience, it provides reliable and cost-effective solutions in demolition, construction and recycling.
Hilti is a leading manufacturer and supplier of specialised tools and fastening systems for the professional user. Hilti expertise covers the areas of powder actuated fastening, drilling and demolition, diamond coring and cutting, measuring, firestopping, screw fastening, adhesive and mechanical anchoring, and strut and hanger systems.
Husqvarna Construction Products focuses on delivering equipment and diamond tools that are efficient, durable and deliver a strong return on investment. This focus means Husqvarna's equipment is not only reliable and effective during operation, but is also very easy to transport, install, dismantle and service, resulting in better ergonomics and higher productivity.
The product range includes power cutters, floor saws, ultra early entry saws, tile and masonry saws and wall and wire saws.
The Liebherr Group is a leading manufacturer of earthmoving equipment and a supplier of user-oriented products and services in many other fields of activity.
Liebherr's North America headquarters is home to seven different Liebherr business units including Liebherr Construction Equipment Co and Liebherr Concrete Technology Co who are exhibiting at World of Concrete this year.
The company is a leading manufacturer of jaw crushers, screening buckets, drum cutters and sorting grapples, applicable to any excavator, skid steer or backhoe regardless of brand.
They are effective in the fields of demolition, recycling and earthmoving, but also applicable in areas such as roadwork, quarries, mines, pipeline work, and environmental reclamation projects.
By using the hydraulic system on the operating machine, the attachments allow businesses to reuse materials immediately on the job site and provide a greener option for recycling waste materials.
Terex Corporation is a diversified global manufacturer of a broad range of equipment that is focused on delivering reliable, customer-driven solutions for many applications, including the construction, infrastructure, quarrying, mining, shipping, transportation, refining, energy, utility and manufacturing industries.
· First published in the November-December 2019 issue of Demolition & Recycling International