Finalists announced for Bentley Systems' 2023 Going Digital Awards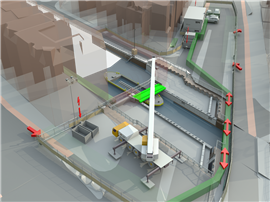 Infrastructure engineering software company Bentley Systems has announced several projects from Europe, Middle East, and Africa as finalists in the company's 2023 Going Digital Awards in Infrastructure.
The annual awards program honours the work of Bentley software users advancing infrastructure design, construction, and operations throughout the world. Twelve independent jury panels, representing 12 award categories, selected the 36 finalists from over 300 nominations submitted by 235 organisations from 51 countries.
Representatives from the finalists' organizations will present their projects to a panel of independent judges to determine the winners and meet with global press and industry executives at the 2023 Year in Infrastructure and Going Digital Awards event, which will be held in Singapore, October 11-12, 2023.
Finalists for the 2023 Going Digital Awards include:
Construction
Bruggen en Straten Oranje Loper, Dura Vermeer Infra Landelijke Projecten, Mobilis, Gemeente Amsterdam,  Amsterdam, Noord-Holland, Netherlands
The city of Amsterdam chose these organisations to renovate 2.5km of road and tram track, including nine monumental bridges. They selected SYNCHRO to visualize project progress, which helped streamline communication and change management, resulting in savings of 800 resource hours for a single bridge. The digital construction solution identified 25 risks, which helped accelerate execution and improve safety.
New Everton Stadium Project, Laing O'Rourke – Liverpool, Merseyside, UK
The new home of Everton F.C. in the Premier League is being built on an existing dock on the River Mersey, where the design team faced tight logistical confinements that necessitated complicated off-site prefabrication works. Laing O'Rourke used SYNCHRO to improve communication and planning during the development of the 52,888-seat football stadium. The 4D model was fundamental to the team's collaboration, enabling multiple disciplines to work together to submit the project ahead of schedule and within budget.
Enterprise Engineering
Rail System Alliance Scotland – Carstairs, Arcadis – Glasgow, Scotland, UK
Carstairs junction is being remodeled to eliminate speed restrictions that will enable faster passenger journeys and improve rail performance. Arcadis selected Bentley applications to establish a collaborative data environment and develop a 3D federated model, reducing design time by 35% to save £50 million in costs and deliver the project 14 days ahead of schedule.
Standardizing Delivery of Phosphorus Removal Schemes for the UK Water Industry, Mott MacDonald – UK
Mott MacDonald wanted to standardise phosphorus removal schemes for 100 water projects. They used their BIM library, Moata Intelligent Content, powered by Bentley's ProjectWise Components Center, as their digital solution. Mott MacDonald collected standard components from their supply chain and produced a standardized parametric model, saving 13,600 hours and over £3.7 million in total costs.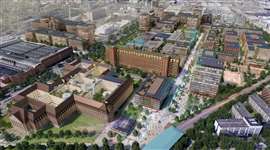 Facilities, Campuses, and Cities
Siemensstadt Square – Digital Campus Twin in Berlin, vrame Consult GmbH – Berlin, Germany
Siemensstadt Square is a 25-year sustainable smart urban development project in Berlin that will turn 70 hectares into a modern, carbon-neutral campus with approximately 100 new buildings. vrame Consult selected Bentley's iTwin technology to establish a digital twin of the campus, providing all project participants, stakeholders, and the public with rapid access to trusted information.
Twins: Creating a Golden Thread across Digital Estates, Clarion Housing Group – London, UK
In the aftermath of the Grenfell Tower fire, an inquiry recommended the digitizing of the information for all components of higher-risk buildings that impact fire and structural safety. Leveraging AssetWise ALIM, Clarion Housing Group established an intelligent system with all relevant assets linked to a physical model. Now, Clarion can provide all data required to meet new building safety regulations.
Rail and Transit
New High Speed Line Salerno – Reggio Calabria, Italferr S.p.A. – Battipaglia, Campania, Italy
The Salerno-Reggio Calabria high-speed line project includes 35km of new rail line with tunnels, viaducts, roadways, and electrical substations. Italferr wanted to coordinate multidiscipline stakeholders spanning several municipalities. Using iTwin automated synchronization of the models into a cloud-based digital twin, enabling visual, virtual design reviews, improving efficiencies by 10%.
Value Engineering Stage for Detailed Design and Supervision of the Rail Baltica Project, IDOM – Estonia, Latvia, Lithuania
Rail Baltica is an 870km international passenger and freight railway corridor linking Estonia, Latvia, and Lithuania, and will save the rail company billions in annual freight transport costs. IDOM is designing 389km of the railway and is using Bentley applications to establish a visual, integrated digital environment that will streamline workflows and minimize changes.
Surveying and Monitoring
DBOX M2, UAB IT logika (DRONETEAM) – Vilnius, Lithuania
Vilnius retained DRONETEAM to deliver a 3D city-scale photogrammetry project for the Lithuanian capital. They developed their fully autonomous drone station known as DBOX. Powered by iTwin Capture Modeler, the solution seamlessly captures high-resolution imagery, transforming raw data into precise 3D models. The technology helped DRONETEAM save 30% in annual work hours.
The Digital Twin for Structural Monitoring of St. Peter's Basilica, Italferr S.p.A. – Vatican City
To help preserve important architectural and religious heritage, Italferr developed a digital twin of St. Peter's Basilica. They relied on ProjectWise, iTwin Capture, and MicroStation to manage three terabytes of multisourced data among 30 people. Working in a collaborative digital environment saved 50 hours in modeling time, enabling Italferr to deliver the model 20 days ahead of schedule.