Finland reintroduces MEWP training
By Euan Youdale11 March 2019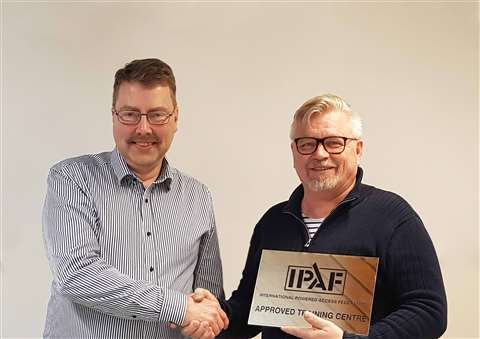 Certified MEWP operator training has returned to Finland for the first time in several years, with member company Simeri becoming accredited to deliver IPAF's PAL Card training for scissor and boom-type equipment.
Kent Boström, IPAF representative for the Nordic & Baltic regions, commented, "This type of important operator safety training has not been available anywhere in Finland for many years, so it is great that IPAF member Simeri has taken the lead and reintroduced accredited training leading to the globally recognised PAL Card.
Simeri has been offering Pal Card training since the end of 2018. Boström added, "It was a pleasure to work with them as they went through the rigorous audit process to become an official IPAF Training Centre during the final months of 2018, and already the first training candidates have successfully passed their operator instruction.
"In recent years IPAF training has been experiencing significantly increased demand across Scandinavia, in particular in Denmark, as contractors such as Mace have been demanding PAL Cards for all operators of MEWPs on site for major projects. As a result, IPAF has translated its operator training course into Danish and is receiving many expressions of interest in delivering training across the whole of Scandinavia."
Pekka Kolehmainen, owner of Simeri, added, "Simeri has been focusing on safety while working at height for many years, by inspecting and servicing MEWPs and fall protection equipment. Providing IPAF training is a natural next step for us."