Finning reports Q2 24% revenue hike
Cat dealer Finning International's second quarter results for 2022 show a revenue hike of 24%, driven by market recovery, a 14% growth in its product support business and operational efficiencies; the company also continues to keep a close watch on supply chain challenges, inflation and interest rates.
Canada-headquartered Finning's revenue of $2.3 billion was up 24% from the same period last year, reflecting strong market conditions in all regions, backlog deliveries, and "continued execution of our product support growth strategy" designed to help customers maximise uptime and reduce operating costs.
EBIT for the second quarter of 2022 was up 39% from the same period last year, driven primarily by higher revenues and improved operational efficiencies.
"We are pleased with our strong execution and performance in the second quarter, which demonstrates our significantly improved earnings capacity," it said via a statement.
"One year on from our June 2021 investor day, we are very proud to have exceeded targets we set out through focused execution of our simple plan to drive product support, reduce costs, and reinvest to compound our EPS."
"Over the last four quarters we have grown our product support business by 14% compared to the four quarters ended Q2 2021," the statement confirmed, adding had reinvested $341 million in strategic acquisitions and share repurchases.
Finning expects demand conditions to remain favourable for the remainder of 2022.
"Underpinned by our large and diverse backlog, continued growth in product support, and disciplined operational execution, we are projecting above mid-teens EPS growth in the second half of 2022 compared to the second half of 2021.
"While activity levels remain robust, we are closely monitoring leading indicators and the impact of ongoing supply chain, labour, inflation, and interest rate challenges on our customer activity levels. We remain focused on actively managing these risks and are capturing growth opportunities in a very disciplined manner.
Scott Thomson, president and CEO of Finning International, said; "Sustainable improvements in our operating model efficiency, inventory management practices, and proactive deployment of our digital capabilities make us confident that we will continue to successfully navigate a very dynamic global business environment going forward."
On home ground, Finning's Canada operations posted net revenue up by 15% from Q2 2021, driven by product support, as well as higher new equipment and rental revenues. "Rental revenue was up 32% from Q2 2021, reflecting strong customer demand in all sectors and higher utilisation rates," the company said.
Looking ahead, the company predicts strong demand in Canada, particularly Western Canada, with Federal and provincial governments' infrastructure programs and private sector investments in natural gas, carbon capture, utilisation and storage, and power projects to drive demand for construction equipment and product support, heavy rentals, and prime and standby electric power generation.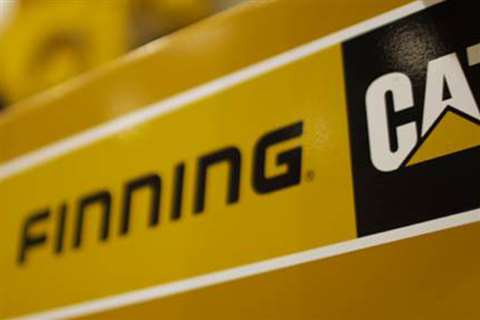 In its South America operations, net revenue increased by 20% from Q2 2021, driven by new equipment sales, which were up 66% due to mining deliveries in Chile. Product support growth was constrained by the challenging supply environment, with product support revenue increasing by 2% from Q2 2021.
In the UK and Ireland, net revenue increased by 21% from Q2 2021. New equipment sales were up 23%, driven by the construction sector, including deliveries for the
The company's outlook for the UK & Ireland operations said these would be driven by demand from high speed rail scheme HS2 and other infrastructure projects as well as data centre roll outs along with high machine utilisation leading to strong construction equipment sales and product support in the UK.
"We expect demand for our power systems business in the UK & Ireland to remain robust, including in the data centre market. We have a solid backlog of power systems projects for deliveries in the second half of 2022 and in 2023, and we are well positioned to capture further opportunities in the growing data centre market."
The company confirmed that the addition of Hydraquip, the independent UK provider of mobile hydraulic services – completed in March 2022, "will support structural improvement in the UK & Ireland's profitability going forward."
At the time of the acquisition, CEO Scott Thomson said the move aligned with a "strategy to drive product support growth, providing complementary products and services that help customers maximise uptime and reduce operating costs. Hydraquip expands our service capabilities across multiple industries and equipment types to both new and existing customers."