FireFly Automatix premieres autonomous hybrid field mower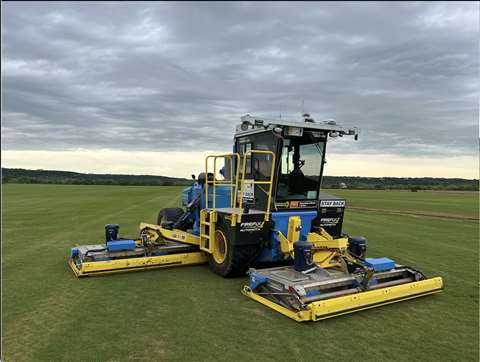 Utah-based FireFly Automatix Inc., a manufacturer of automated, self-propelled and autonomous equipment for niche agricultural markets, announced the initial customer implementation of its M220-AV, the company's first fully autonomous field mower. A limited number of turf farms have been selected for eligibility, with the first pilot production vehicle delivered in April to Prime Sod in Kopperl, Texas, and additional orders booked through early Summer 2023.
In development since 2018, the commercially available autonomous vehicle (AV) is based on the 22-ft. M220 field mower used for turfgrass production. The diesel-electric M220-AV combines a 125-hp JCB turbocharged, Tier 4 Final engine with a Bosch Rexroth drivetrain. A powerful controller coordinates a suite of LiDAR sensors, cameras and a GPS receiver to ensure safe and accurate operation, FireFly said. Operators access the FireLink platform via an included tablet.
The mower is programmed using "teach and repeat." The operator drives the moweralong a path in "teach" mode, then brings it to the start of the path and tells it to "repeat" the path autonomously as many times as needed. The unit is designed to stop when it detects an object in its path or loses connectivity. An alert notifies the operator of the stoppage and provides camera views to allow the operator to intervene and resume operation safely and quickly.
The 16,600 lb. M220-AV comes with a climate-controlled, pressurized cab for operator comfort during the initial teach mode, as well as state of the art electrical controls and automated mow height, FireFly noted. Mow height can be adjusted on-the-fly in 1/16 in. increments from 5/8 to 4 in. using the Digital Height Control system.
Optimized front-mounted electric decks are engineered to ensure a 20 ft. 11 in. precision cut at speeds of up to 10 mph, equivalent to 13.3 acres per hour, the company stated. Decks are foldable to 8 ft. 1 in. to enable ease of towing and field to field speeds of up to 14 mph.
According to Steve Aposhian, FireFly's founder and CTO, the M220-AV represents a labor-saving "full paradigm shift for turf farm mowing."
"We are creating new efficiencies to meet the turf farm industry's highest needs, which we will ultimately expand to fulfill turf maintenance roles in every place they are needed," he stated. "Further, the rigors of providing autonomous solutions at the commercial farm level lend themselves long term to the development of markets such as golf, sports turf and municipal (parks and schools), orchard and roadside safety mowing."
Company CEO Andrew Limpert added that the steadily increasing costs and shortages of labor in many parts of the U.S. represent a threat to the future of traditional farming. He asserted that "robotics and automation hold the key to the long-term competitive positioning in agriculture."
"While autonomous machines will never fully replace the need for qualified human resource, innovations like the M220-AV are a vital complimentary development toward farming's ability to produce ideal turf and traditional crops more efficiently," Limpert said. "Additionally, the ability to increase labor efficiency while lowering the requirement for fossil fuels through hybrid and electrification technology will reduce emissions and save expenses in fuel consumption. The growing need for increased efficiency — coupled with sustainability — is an opportunity in virtually all areas of agriculture."