First India power symposium
By Leila Steed26 April 2019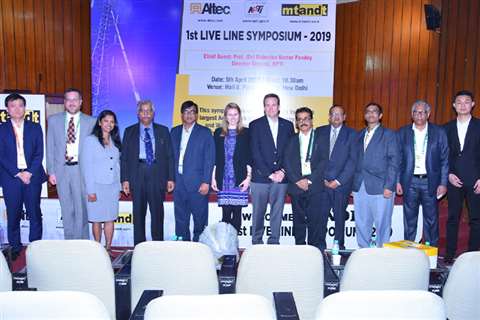 Mewp rental company Mtandt and utility vehicle manufacturer Altec hosted India's first live line symposium at the Pragati Maidan exhibition centre in New Delhi, India.
The inaugural event saw expert speakers discuss India's live line practices, with a focus on how insulated aerial equipment can affect the reliability and sustainability of India's power supply.
Held in conjunction with the 2019 Gridtech International Exhibition and Conference, the event's keynote speaker was Dr Rajendra Kumar Pandey, director general of India's National Power Training Institute (NPTI). In his keynote speech Pandey focused on safety and training trends in India's power industry.
Chitra Ranganathan, Altec market development director, Asia Pacific, said, "The predominant work practice in India is to shut off power during line maintenance with a very small portion of the work being done on live lines," Ranganathan, continued, "India is seeing an increased demand for uninterrupted electric power supply for industrial, commercial, and residential consumers. This demand is driving electric utilities to embrace new technologies and work methodologies."
The live line symposium was also attended by a special delegation from China, which talked about the long-term benefits of live line work and how insulated aerial equipment can improve safety, productivity and efficiency.