First PB scissors for Spain
By Euan Youdale05 December 2016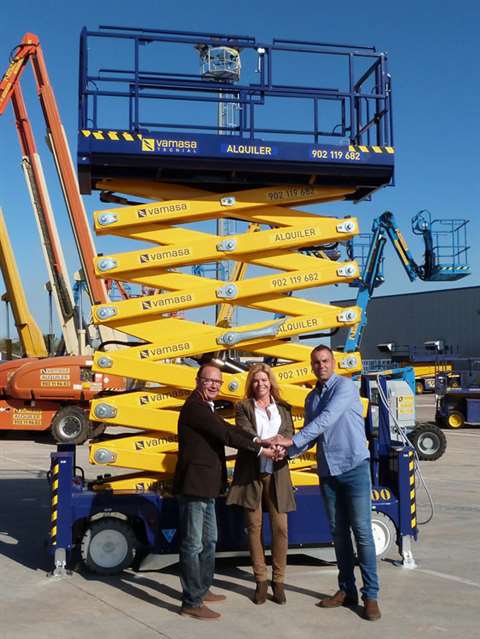 Following the opening of PB's Spain depot in June this year, the manufacturer's first machines were delivered to the country, in the Iberian Peninsula.
Two PB S171-12ES scissors were delivered by the depot to the offices of Vamasa Tecnical in Valencia and Barcelona, which took one each.
Victor Cambralla Balaguer, Vamasa CEO, said the machines set up for rental. "An important factor for us was the machines were designed for easy accessibility during maintenance."
The 17.2m working height PB S171-12ES has a 1.22m wide compact design. The platform is 3.9 x 1.19m and has a 400 kg lift capacity. The electro-hydraulic drive combined with the standard differential lock is emission-free.
Scissor packs at the top and bottom result in a reduction in weight. The centre of gravity is also set as low as possible for high stability.
The hydraulic self-levelling outrigger system is also a feature for outdoor use, while indoor operations can be carried out without outriggers. The machine is also driveable at full height.
The existing partnership with Vamasa service partner of ITM is also man advantage, says the company, as ITM is also PB's representative in Spain; with employees of Vamasa and ITM both having been trained by PB.
"With PB we have found a supplier for the future, which has a very good, closely cooperating team," added Balaguer.
Another order from Vamasa for 2017 is already on PB order book.