First quarter pick-up at JLG
By Euan Youdale26 January 2018
JLG's sales increased 28.4% to $628.2 million in the first quarter of its parent company Oshkosh Corporation's 2018 financial year. The increase in sales was due to improved demand for both aerial work platforms and telehandlers, said the company.
Oshkosh's access equipment segment - JLG - operating income decreased 43.4% to $13.8 million, or 2.2% of sales, in the first quarter, compared to $24.4 million, or 5% of sales, in the same period last year.
Excluding charges and operating inefficiencies associated with previously announced restructuring actions of $16.1 million, adjusted operating income was $29.9 million, or 4.8%, in the first quarter of fiscal 2018.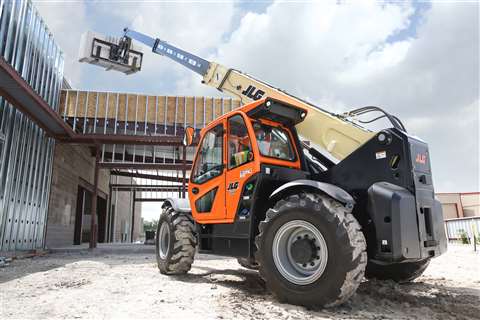 The increase in adjusted operating income in the first quarter was primarily due to the impact of higher sales volume, offset in part by higher material costs and, to a lesser extent, higher legal and inventory reserve adjustments, unfavourable customer mix and an adverse foreign exchange impact.
"I am pleased to report a positive start to fiscal 2018, with results that exceeded our expectations," said Wilson Jones, president and chief executive officer of Oshkosh Corporation. "Strong orders in the quarter and strong backlogs exiting the quarter reflect the broader positive macroeconomic environment driving favourable conditions in many of our markets.
"I am proud of the hard work and dedication of our Oshkosh team members that delivered these solid results. Sales grew in three of our four segments, and all four segments reported higher adjusted1 operating income. We continue to identify opportunities to improve our execution and remain focused on delivering strong performance and shareholder value.
Overall, Oshkosh reported consolidated net sales in the first quarter of $1.59 billion, an increase of 30.9% compared to the first quarter of 2017. The Company reported double-digit percentage sales growth in its defence, access equipment and commercial segments.
Group wide, consolidated operating income increased 103.9% to $73.8 million, or 4.7% of sales, in the first quarter.
As a result of the positive start to the year, forecasts of improved demand for access equipment and the impact of tax reform, the company is raising its 2018 full year outlook. It now expects consolidated sales to be $7.1 billion to $7.3 billion, an increase of $200 million from the Company's previous sales estimate range of $6.9 billion to $7.1 billion.
Consolidated operating income is now expected to be $520 million to $570 million. Excluding anticipated charges and operating inefficiencies for announced restructuring actions in the access equipment and commercial segments.