First sales partner for ​Ahern Deutschland
By Euan Youdale13 October 2020
Ahern Deutschland has appointed Nordkran as its first official sales partner.
Based in Delmenhorst, near Bremen, Germany, Nordkran have become the official Ahern Deutschland sales partner for Snorkel telehandlers to the construction, industrial, and trades sectors, as well as Faresin telehandlers to the agricultural sector, with responsibility for the north west region of Germany.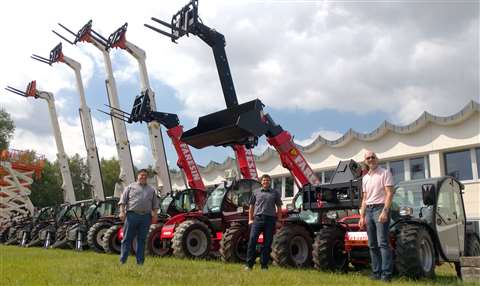 Nordkran has also become the first in Germany to take delivery of a Faresin FR6.26 Full Electric compact rough terrain telehandler. Powered by 80V 300Ah lithium-ion batteries, the FR6.26 delivers a maximum lifting capacity of 2,600kg, and a maximum lift height of up to 5.79m, while being completely zero emissions. Nordkran has also placed an order for a Snorkel SR1745 for their construction customers.
Specializing in creating tailor-made lifting solutions, Nordkran works with a range of leading manufacturers, such as Jekko, to provide their customers with cranes, mini cranes, glass handling robots and vacuum technology for a wide range of applications. As an official Ahern Deutschland sales partner, Nordkran will work to build brand awareness and customer adoption for Snorkel and Faresin telehandlers in their respective sectors within the defined sub-dealer territory, as well as providing local service and support for units in the field.
Maik Buchtmann, managing director of Nordkran, said, "We are very pleased to be appointed as an official sales partner to Ahern Deutschland for the Snorkel and Faresin telehandlers. Both the Snorkel and Faresin brands have a reputation for simple, reliable and high-quality products, and we are excited to be able to offer them to our customer base. Additionally, we are incredibly pleased to show our commitment to becoming a sales partner, with the purchase of the very first electric telehandler in Germany."
Bernhard Kahn, managing director at Ahern Deutschland, added, "The team at Nordkran are highly regarded as lifting experts in the north west region. They have a well-established customer base that transcends a range of sectors, including construction, industrial and agricultural, and therefore we feel they are ideal sales partners for their territory. We look forward to a long and mutually successful co-operation."
Ahern Deutschland is continuing its search for regional sales partners for Faresin telehandlers in the agricultural sector, and for Snorkel aerial lifts, telehandlers and material lift sales to the construction, industrial and trades sectors across Germany. Official Ahern Deutschland sales partners will be provided with a sales partner logo and marketing materials, plus dedicated training and support from the Ahern Deutschland team. Interested parties are invited to contact Ahern Deutschland.