First sight of Snorkel vertical mast lift
By Euan Youdale13 February 2013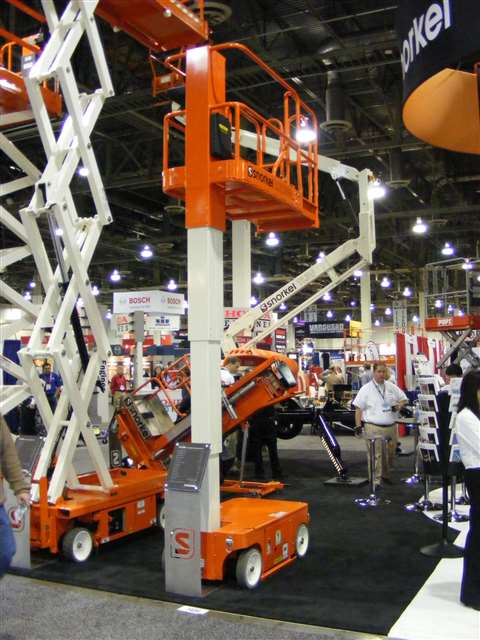 Snorkel gave a preview of its M1230E compact self-propelled 12-foot mast lift at The Rental Show 2013. The prototype machine is slated to officially launch at bauma 2013.
The M1230E all-electric was displayed on Snorkel's stand at The Rental Show Feb. 11-13 in Las Vegas. The machine boasts a 500 mm roll-out deck extension. This optional extra extends the platform size to 1.46m, providing additional reach without the need to move the machine.
The company said it did not want to miss the opportunity of showing the machine at the USA's biggest access equipment exhibition, but would officially present the model in April at bauma 2013 in Germany.
The ME1230E can be driven through standard interior doorways and carried in passenger elevators and will lift two people with tools to a platform height of 3.6 m.
The reverse concentric mast design gives the M1230E a lift capacity of 227kg (113kg on the deck extension) and a stable work platform, even when fully elevated, said the company. It is suited to a range of applications, from construction and maintenance to stock-picking. It is also rated for outdoor use, by one person.
The M1230E is now fitted with twin 'saloon door-style' entry gates and the same control system found on Snorkel's S Series scissor lifts, providing smooth proportional controls and easy-to-use diagnostics for troubleshooting.
It also has a flat steel deck floor with high grip tape, which prevents any misplaced screws or other small items falling into the machine's works.