First UK/Irish delivery for Sinoboom
By Euan Youdale20 October 2020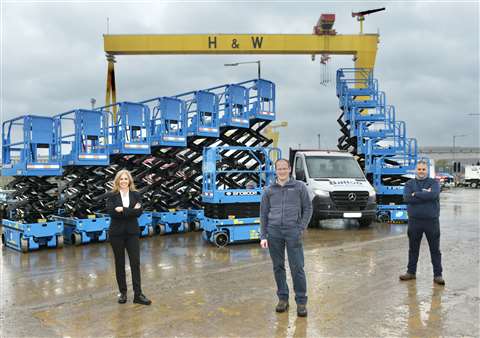 A consignment of 50 Sinoboom electric scissor lifts to Balloo Hire Centre, in Belfast, represents the first delivery of the Chinese manufacturer's products to the UK and Republic of Ireland.
The mix of electric and hydraulic drive units, all 1932 models, offer a working height of 7.8m (25ft), and were chosen by Balloo Hire in readiness for the demand generated by large projects. Briggs-owned Balloo Hire has several depots across Northern and the Republic of Ireland and holds IPAF Rental+ certification alongside ISO 18001 and ISO 45001 accreditations.
Colin Magee, powered access manager for Balloo Hire, along with Paul McClelland, fleet manager for Balloo Hire, accepted delivery of the first batch of units at the company's head office in Belfast from Julie Houston Smyth, UK & Ireland regional manager for Sinoboom BV.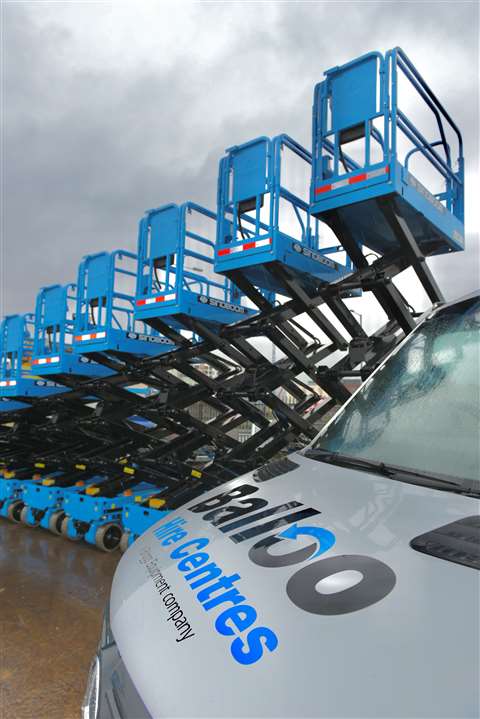 "When looking to expand our electric-powered scissor lift range, we decided on Sinoboom's machines as a great choice for our customers who are wanting the most efficient option combined with the latest technology for working at height. We're impressed with the quality, and are very much looking forward to a long-standing and fruitful relationship with Sinoboom," said Magee.
Houston Smyth added, "We are delighted that Balloo Hire have chosen to place their valued order with Sinoboom BV and have entrusted us to meet the specific needs of their battery scissor fleet. The quality and performance of the Sinoboom product range so far in Europe speaks for itself and we are confident that this equipment will perform incredibly well in the field and ultimately result in a great investment for Balloo Hire."
Speaking from the European subsidiary's offices in Ridderkerk, Netherlands, Sinoboom BV CEO Tim Whiteman said, "This is a very important development for Sinoboom's operations and we thank Balloo Hire for its confidence in our brand. We are confident that this will be followed by other UK orders in the near future, and we are investing to ensure that we are an integral part of the UK market with uninterrupted, high-quality supply and support once the Brexit transition period comes to an end."