Fleet expanded with low loader
By Christian Shelton06 November 2017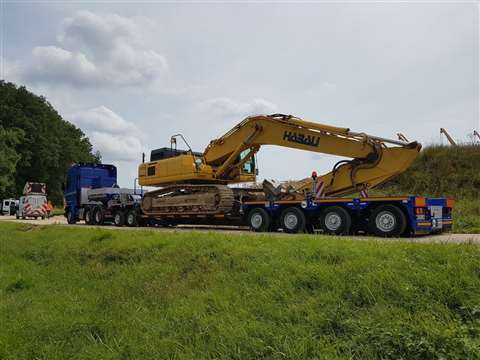 German heavy transport specialist Reiser Schwertransport has expanded its fleet with the addition of a Scheuerle-Nicolas EuroCompact 2 + 4 low loader from the TII Group, which will be used to transport construction machinery.
The low loader has a short length, offers good manoeuvrability, and has a light weight, said TII. It also has a 'Smart Axles' – this means an additional one- or two-axle dolly bogie unit can be coupled between the dolly and deck by means of a hook coupling. This system works in a similar way on the rear boom recess bogie. Here, an additional one-axle boom recess bogie can be coupled between the deck and boom recess bogie. For Reiser Schwertransport, the deck was designed in such a way that the two plus four combination can be later upgraded to a three plus five combination.
The low loader has a 1.50 metre wheelbase (1.36m is also available), which TII said will help protect roads and bridges as well as simplify approval procedures.
In addition to the optimised combination length, particular attention was paid during the development of the EuroCompact to ensure the widest possible excavator boom recess, said TII. Another distinguishing feature is the junction between the decks and boom recess bogie, it continued. Here, several pressure strips allow the rapid installation of different decks with different heights. Integrated continuous fifth wheel load adjustment is a standard feature.
"A real benefit in its application is the possibility to choose between a three or four-point support which allows completely free adjustment of the lateral inclination," commented Stephan Reiser, managing director and owner of Reiser Schwertransport.