Fletcher Access invests in Unimog
By Leila Steed05 April 2019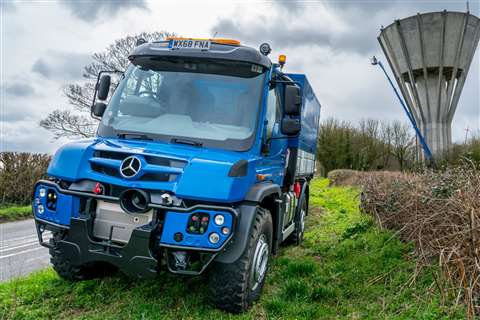 Working at height specialist Fletcher Access has added the all-terrain Mercedes-Benz Unimog to its fleet.
The Unimog GVW U530 weighs 15.5 tonnes and features a 7.7 litre six-cylinder engine and full synchronised electro-magnetised transmission. Capable of going cross country, it comes with permanent all-wheel drive and includes eight forward gears and six reverse gears. The vehicle's portal axles offer adjustable levels of articulation.
Fletcher Access director, Simon Fletcher, said, "At one point we were inclining towards a flat-bed truck with beavertail but then Jeremy suggested we look at the Unimog." He added, "We realised the Unimog's ability to access off-road sites could be a big advantage."
The company, which offers high access cleaning and maintenance services, also has a rental division. Speaking of the vehicle, Fletcher said, "It will provide an ideal platform for growth because not only does it offer hydraulic power for new attachments, but it will also be able to tow the tri-axle trailer to which we'll have to upgrade when we purchase bigger, heavier access machines."
Mercedes-Benz dealer Rygor Commercial said the U530, which replaces the brand's 7.5 tonne Atego truck, also features a VGB drawbar and can tow a tandem-axle trailer at a capacity of 26 tonnes.
Speaking of Fletcher Access, Rygor Commercial Sales Executive, Jeremy Price, said, "the trailer currently transports the company's tracked access platforms, the biggest of which has a 42m reach and tips the scales at seven tonnes."