Footbridge move by Collett
It took six loads to transport the parts of a new 62 metre footbridge around England before its final installation.
The Battenhall Bridleway bridge started life in Northallerton, Yorkshire. It consisted of three deck sections, an arch and a pair of arch ends. Their first destination was south to Sheffield where they were finished. From there Collett used four axle extendable trailers to move the 25.5, 21 and 16 metre decks. Longest of all was the 27 m arch which called for a different approach. Self propelled modular transporter was used to extract it from the shop where it was fabricated.
Components were stored at Collett's heavy lift storage facility in Goole. From there South Yorkshire Police and private escorts went with the loads to the construction site in Worcester. First to go was the heaviest component, the 31 tonne deck section. It left at 19.00 hours to minimise disruption for other road users. An overnight stop was made at the M1 Junction 28 abnormal loads bay.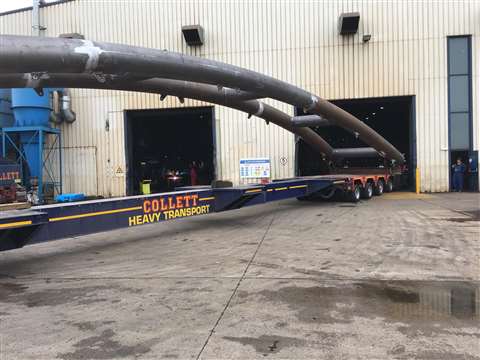 Along the designated route Collett had produced swept path analysis reports, completed enabling works and removed street furniture. Two loads went from Goole and the other four made a 120 mile (180 km) journey from Sheffield to the Worcester construction site. The loads were arranged and delivered to fit the schedule.
With them all together on site the sections were then welded together into the 170 tonne footbridge spanning 62 m. Installation across a main road is by 1,250 tonne capacity crane.